My little diva is 7. Her eyes and smile are full of magic, and she simply lights up ANY room. As I promised her last year, we celebrated her birthday at Little Mermaid style. Of course, I went all out with the designs for everything. The girls love to see what I make for my customers, and they look forward for designs with their own birthdays. Here is the invitation...
I had a lot of fun planning the party, and designing everything! The whole area was surrounded with blue ribbons on the walls and fishes as the idea is that we were under the sea. I did designs for all the goodies and favors.

The birthday girl blowing her candles. I got magic candles and the moment was really fun. We all laughed and laughed, because regardless all the blowing, they would still be light up.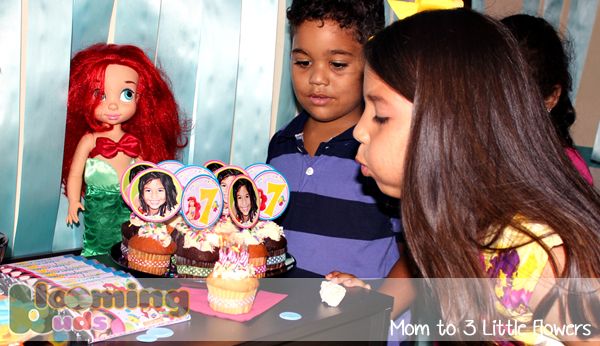 There was an area for the kids to do some coloring. They had a blast... Here is a picture of us with my youngest nephew (
remember him?
)

Here is the birthday girl with my nephew's mom, auntie Luisa and also with my favorite uncle...
It was a very special day for all of us and the birthday girl couldn't be happier!