My life is NEVER boring, and there is always something too cRaZy or too uNBeLieBLe going on... A couple of days ago was no exception...
First thing to read this, you need to be able to picture my kitchen on your head... I dont have photos, so I had to google online and this was the most similar photo that I found... Instead of the microwave, picture an
extractor fan
(which means a heavier appliance).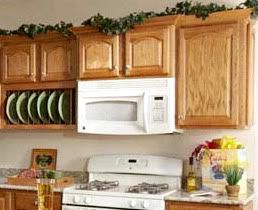 My kitchen cabinets also had a rack for plates in the left bottom side of the cabinet, and on top of the fan extractor there is an open space, which have tea cup sets, and a few other "breakeable" stuff.
My kitchen is rectangular, and very narrow.... In the front of this cabinet, there is another cabinet just like this one, but instead of having the extractor fan and stove, it has an empty space for the window where the extrator fan is in the other side, AND it has the sink where the stove is in the other side (I hope you are able to picture this on your head).
So, I was doing the dishes so I could start cooking, and suddlendly the COMPLETE cabinet where the extractor fan was felt on top of me... If you had a good picture on my kitchen on your head, you will realize that the cabinet that felt was the one that was on my back... As the kitchen is very narrow, there wasnt space for it to felt all the way to the floor because I was there... That means that my body had to actually hold it until hubby came to help me...
I have no idea how much weight that was, but it was A LOT.... All the plates and tea cup sets broke down (some of them broke on top of my feet... there was blood everywhere).. The extractor fan didnt broke down, but it sure hurt a lot while I was holding it... The back of my left arm was the part of my body that was more hurt...
The good news is that it could have been a lot of worse, specially since I was about to start cooking... PICTURE THAT!!! Also, I kicked out Mimi a minute or so before this happened!
I went to the doctor and after seeing several X-Rays, she told me that I have a severe muscle spam on my neck, and that I may need therapy for it... It does hurts VERY bad in the neck area and the left shoulder!!