My very first award, and I love it. Thanks
Sara
for it! Here it is: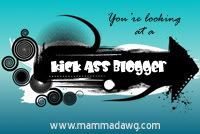 Now, the rules:
* Choose 5 bloggers that you feel are "Kick Ass Bloggers"
* Let 'em know in your post or via email, twitter or blog comments that they've received an award
* Share the love and link back to both the person who awarded you and back to
Mammadawg
, the inventor of this award.
* Hop on back to the
Kick Ass Blogger Club HQ
to sign Mr. Linky then pass it on!
Here are some Kick Ass Bloggers:
- Heather at
Love + Laughter = Life
just because she manages to blog just about everything and it doesnt matter how busy life gets, she will always update us. She is not a big fan of blogging chains, but she is a Kick Ass Blogger.
- Nicole at
Family News
just because she has an amazing way to capture her children personalities with just a camera, and it shows on her blog what an amazing family they are.
- Sadie at
Vote for Mattox
just because I love the approach of her blog. She is set that she gave birth to a future President of the United States, and I love how she writes about "How to raise a future President".
- Cindy at
Baby Claire
just because I think they are a lovely and strong family that are trying to raise awareness about
CDH
. Her daughter is stinkin' cute and it's as petite as Mimi and same age.
- Kate at the
O'Connell Family
just because her photos say too much... I think she has an awesome talent and I love the
"feel"
of her blog.
I hope to receive more awards to give as there are some many blogs that I would like to give an award to. Until then....
(For some reason I edited and it got deleted..... Of course you guys knew I meant KICK and not KISS!!)