We finally set a name for the dog. My dear friend
Susan
suggested it, and we all love it (Thanks Sis!)... Even Mimi can say it. We are still unsure of what to do with her as nobody is looking for a large dog, but in the meantime, we cant keep calling her: "la perra" (the female dog)...
Why Sassy? Even though I know what it means, I google the meaning of it and I learned about lots of meanings that it has... That's when I knew she really is Sassy!
* Lively and spirited, stylish or chic
* Fun, daring, sexy, multifaceted, someone you have to have! (of course, we dont know if she is sexy... We should ask the dog next door)....
* An adjective, typically used to describe a playful, flirty, saucy woman, particularly in reference to her verbal remarks. Occasionally, women will be *sassy* in order to get a spanking for causing trouble. The best way to tell is if her eyes are bright with mischief.
* When someone knows what they want and knows exactly knows how to get it
* Word to describe an extremely tall and goofy girl, like the female and human version of a Sasquatch (she will be very "tall" indeed).
* The adjective with an ambiguous yet positive meaning to be used as a compliment when describing someone when you can't think of any words to describe them with. It always works in making the person feel good.
* Used to describe a really bitchy and commanding girl
So, doesnt she look very Sassy?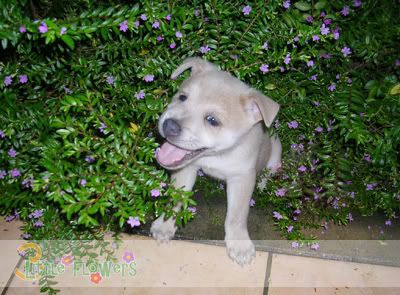 (Got it from the
Urban Dictionary
)
As for Gaby, she has been only a bit better, and she has been needing the nebulizations... Gotta update the ped tomorrow morning, and I will let you guys know how it goes.