Yesterday I gave the camera to the preschool's secretary to take some pictures of the girls, and she took tons. Of course, I wont post them all, but here are some...
Gaby on recess playing with the sand: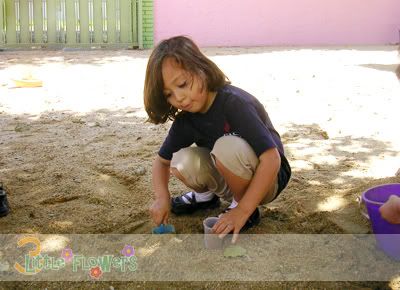 Gaby with some of her friends: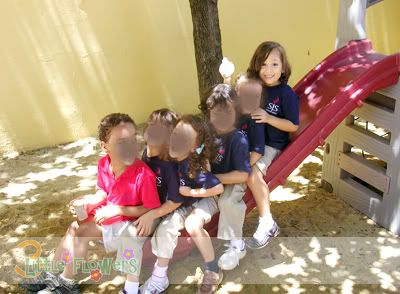 Mia is feeling better today... The actually told me that she didnt cough at all and that she was breathing just fine... After I picked her up she was coughing a bit but just because Gaby was being rough with her and she was getting to excited...
Here is a picture of her cheating on her love... The secretary told me that he was actually giving her a kiss and she couldnt get it on the picture... Wonder what her
crush
think about this....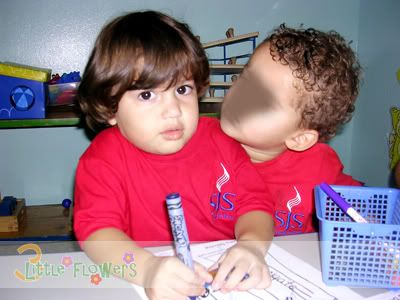 Mia and two of her girlfriends.... The one right next to her is her buddy buddy.
Mia had a "Brush your teeth" day and they asked the parents to send toothbrush and toothpaste, and they were teaching the kids how to brush their teeth: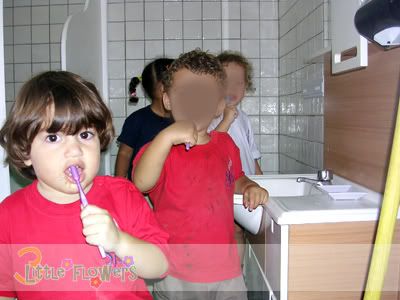 Mimi is doing much better.... Here she is trying to hold the dog... She loves her very much, and the dog knows that she is the little one and that she cant be rough with her (she loves to bite Mia and Gaby playfully, but doesnt do it with Mimi... how sweet...).