Two years ago, a perfect dark hair and blue eyed baby boy was born! He is my nephew and the most gorgeous little boy alive. He was born at 2:10am after a really difficult delivery. The mom was in labor for over 12 hours, 2 and a half hours of pushing, and they had to use the vacum four times to take him out!!!! He spent a bit in the NICU mostly for observation, and was nursing like a champ!! He was 7 pounds, 8 ounces and 19 inches long!
He was born in the states, and I was already living in this Country, and I missed his birth. One month later they came here, and words cant explain how I felt. The love I was feeling for him was so big that I couldnt believe I could feel that way for a child that is not my own. I love my brother to pieces, and probably because is his son, I felt in love with him.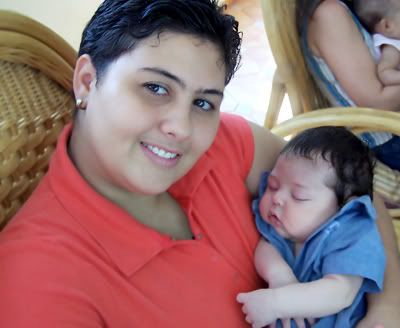 A year later was his baptism, and his parents gave me the best gift of all... They made me his Godmother, and it was just huge. He was like a son to me, and now he was "My Son in God". I didnt need a reason to want to spoil him, but they gave me one.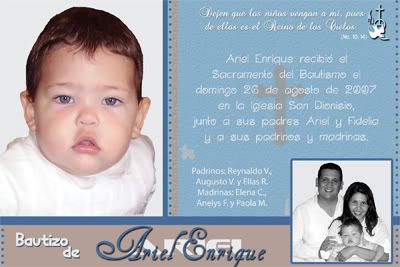 He has grown into this wonderful little boy, and I cant wait for next week when we will be celebrating his second birthday.
I also wanted to share that my brother and godson were choosen as the Dad and Son to be in the cover of a very popular magazine in the Country for Father's Day. Later on, I will take the chance to translate the interview to English and blog about it, but in the meantime, here is one of the pictures the photographer took: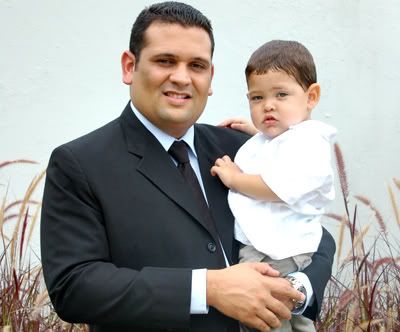 Ariel (or Rique as Mia calls him): Your godmother, Tio Ernesto and cousins Gaby, Mia and Mimi loves you VERY MUCH and are very happy to be part of your life. HAPPY BIRTHDAY!!!!



You also may wonder why my title says BOYS. Two years ago was born another adorable little boy named Marcos. He was born too soon at 26 weeks and 4 days of gestation due to PROM (early in the second trimester), and he grew winds just a few hours after he was born. This baby will always be special to me because he was born the same day as my beloved nephew, and I think God has big plans for us. His mom became the only non-family person to be godmother of one of my daughters, and she is really special to us.

I was just looking at his pictures just now, and he was just so perfect. Ariel is lucky to have him in Heaven taking care of him, because I know Marcos is Ariel's special Angel. From all the days he could have been born, he was born the exact same day as Ariel, just a few hours of difference, and Im sure this is way more than a simple coincidence.
(Also, please take a moment a light a candle for him on the right size of my blog... )