The day arrived. He was supposed to be born tomorrow because of all the complications, but they decided to do it today cause his heartbeats are really going down, and it is very risky to keep him IN there.
He was born at 10:35am, via C-Section, weighting 5 pounds and 12 ounces (still haven't find out the length). He was very purple on his face, because of the umbilical cord around his neck, but he is simply gorgeous… He had some respiratory distress, but right now he is on observation and he is breathing on his own.
They said he will get to be with him mom by tomorrow. And on a good note, they actually allowed me to go inside the NICU and I got to see him… He is gorgeous, and really doesn't even look that small.. Of course, Im so used to having 4 pounds babies, that he looks huge in the incubator to me. He is all swollen so some weight loss is expected, but Im sure he will put that weight right away!
My little bro got to make several videos with my camera, but I wont be posting those as they are too graphic… Here is how he looks on the NICU... Isnt he a cutie??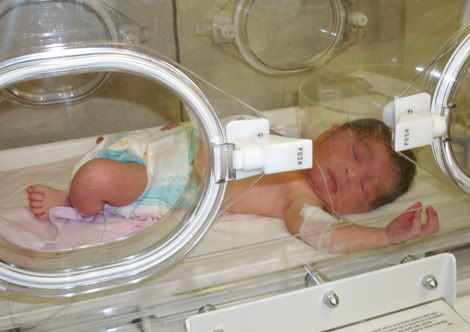 And here is a picture of Gaby and the new daddy...