Tomorrow is a national holiday because of the Independence Day and Carnival celebration, that is why today the school had their own celebrations...
Gaby had an "Independence Day" performance. She had to say the name of 4 history characters, and even though she knew them, she needed a bit of help saying them... Just for the record, here are the names that she had to say: Juan Nepomuneco Ravelo, Jacinto de la Concha, Pedro Alejandrino Pina and Juan Isidro Perez... Yes, dont get scared, they were as difficult for her as they are for you (LOL), even hubby had a hard time trying to pronounce them... I did memorized them, though (pad me on my shoulders, please).
Hubby took photos with the school's camera, and totally forgot to download them before we left the school, so we will see those on Monday. Here is one photo of Gaby and one of Mia... The skirts were done for my friend
Kim
from
Prairie Mama
, and I think they looked GORGEOUS!!! She always does such a good job!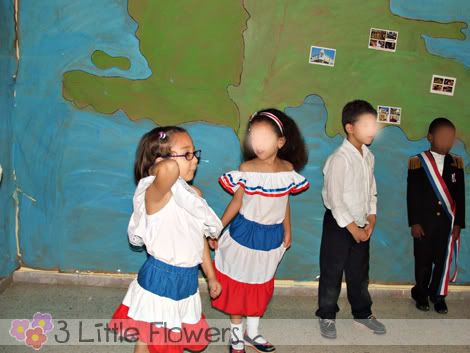 I would get a picture of the three of them with their skirts.. They looked so cute... I would also get photos from Mimi's preschool on Monday. Cant wait.