This is not a secret... We ALL have healthy issues... The five of us. This has to change NOW! Everybody keeps telling me this is normal because they are preemies and spent their time in the incubator and so on, but I just cant get used to seeing them sick all the time.
I sat down with the ped and told her that I really needed for us to work this out, and make exams to my girls from head to toe to make sure everything is fine, and nothing is not working right. We decided that February and March will be for the girls, and April and May will be for hubby and I.
You guys know me... I LOVE lists. So, I decided to make a list of all the tests and specialists they girls will go throught in the next days and weeks.
Amelia - The Pink Bud
* She has been getting frequent colds, and had tonsilitis two times in between mid December and mid January.
* She is also showing signs of lazy eye in her left eye.
* Another thing is that she gets frequent and VERY serious rashes that only go away with a very strong cream (Desitin is like a joke for her). She has a very sensitive skin.
Action Plan:
1 - CAT Scan to check for Sinusitis
2 - Check up with an Eye Doctor
3 - Check up with a pediatric Dermatologist
Camila - The Red Bud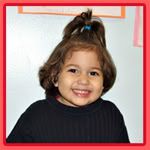 * Every cold ends up with an asthma episode, and this last time she ended up with bronchopneumonia. She has had 3 episodes in the last 6 months.
* She has recurrent diarrhea and ocassional vomiting since she was 12 months old. She now has abdominal distention.
* Every blood work that she had in her life has shown a little bit of iron deficiency, even though she eats just fine (better that Gaby who doesnt have any low levels of red blood cells).
* She doesnt know her colors. She is still on the age where it may be normal, but one never knows. She knows her shapes, positions and talks like a parrot, but she cant tell the colors.
Action Plan:
1 - X-Ray to check for Sinusitis and Adenoids
2 - Buy Humidifier or Vaporizer to sleep (still need to find out which option is better for her)
3 - Ultrasound to check if she has any enlarged organ to produce the abdominal distention
4 - Test for tolerance to Lactose, Gluten and Soy (Those are 6 tests, 4 of those are RAST to milk proteins, and the other two are RAST to Soy, and RAST to Gluten).
5 -
Disaccharides
Test and Digestion Test... Both done with stools
6 - Check up with the Eye Doctor
7 - Blood work to check on the platelets level
Gabriela - The Purple Bud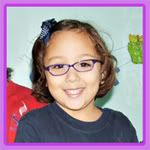 * She has enlarged adenoids and sinusitis. She needs to be re-check now that she is 5 to consider surgery. She has frequent otitis and tonsilitis with no fever or pain.
* Her colds ends up with wheezing, but this may be related to the enlarged adenoids.
* Gaby's bull legs havent improved at all... She is now walking worse than ever. She also complains about leg pains sometimes.
* The principal and psicologist at school noticed that Gaby is showing lazy eye in the "good eye". I have heard that this happens to some kids, but I need to ask what to do.
* She continues to have misbehavior at school. Not everyday, but still more than the average misbehavior.
* From time to time she complains about a pain in her leg.
* She gets frequent vaginal discharge, we assume it is because her lack of good cleaning when she goes by herself to the bathroom.
Action Plan:
1 - X-Ray to check for Sinusitis and Adenoids
2 - Check up with the new ENT doctor
3 - Check up with a new orthopedist for a second opinion and tell him that she sometimes complains of leg pain.
4 - Follow up with her eye doctor
5 - Call the new psicologist to find out about group therapies.
6 - Resume with the tests prescribed by the neurologist.
EEG
,
Head MRI
, plus some blood work with several tests.
7 -
Vaginal culture
exam
It may seem like a lot to take, but Im positive that things will be easier as soon as we have some answers... It is not easy to deal with something when you dont have an actual diagnosis, and always gets a comment of what it "could" be.
I will keep the blog updated about this.