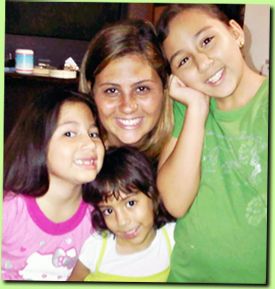 I weighted the girls today and here is the verdict.....
- Mimi is 41 pounds and in 22nd percentile for her age (my peanut)
- Mia is 63 pounds and in 85th percentile for her age
- Gaby is 103 pounds and in 95th percentile for her age
If you look at the picture, even when Mia is not completely straight, she is still way taller than Mimi and she is only 13 months older. Mimi is really petite but I'm not so worried anymore... She really eats very well, and she IS growing... just in a lower pace than usual. Maybe her metabolism is just too fast and she will be one of those ladies than eat and eat and never gets fat.