So, yeah.... It's been so long that it is not even funny! I keep making promises about updating my blog, but I spend so many hours updating my customers blogs that I honestly cant find a second to update mine. And even as I'm posting right now, I already have to run. For now, I will leave you with our Holiday Card. I did a very unusual card as this year I included my brother's family. And also updated the little pictures/ages from the header.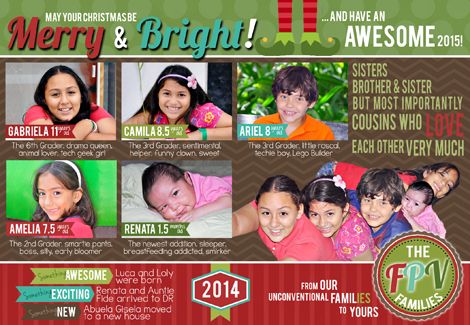 As the letter are so small, here it is what it says for each one:
* Gabriela, The 6th Grader, drama queen, animal lover, tech geek girl
* Camila, The 3rd Grader, sentimental, helper, funny clown, sweet
* Amelia, The 2nd Grader, smartie pants, boss, silly, early bloomer
I promise I will post an update about each one ASAP!!