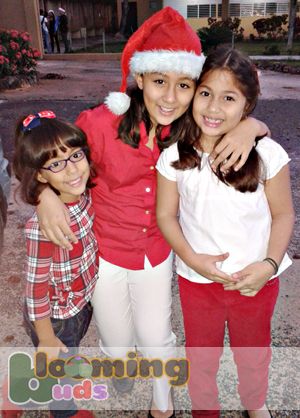 This year the girls were not part of the Christmas Play at school. Some kids worked on a play where they selected kids from every grade and for some reason my girls didn't want to participate.
Even if they were not part of the play, they still wanted to go. I confess I was not really looking forward to go to a school's play to see other kids perform, while my girls were just sitting down... but they begged and begged and even black mailed me telling me that I was going to be able to take a nice picture of them.
And I sure did got my picture. I actually got a picture that became one of favorites of them together. Even when they cooperate, there is always something that is not perfect about the picture, and I love love love this one.
The show was also really good. It was a full play and it also gave me the opportunity to meet the new principal. They attend a school that is international and they switch principals from one country to another, and this is a new one in the country.
Here is also a picture of Gaby with some of her classmates...