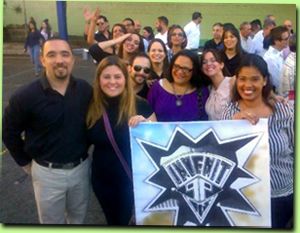 At the school where I graduated, they do a big thing for our local's independence day. They do a big event that normally makes the newspaper where they invite some local celebrities and lots of other schools.
It's a big
marching
towards the national flag and one of the biggest things of the event is that former students would attend and also march. I remember when I was a kid that it was so cool especially because there were a group of former students with a
marching band
.
My class was turning 15 years of having graduated and we wanted the school to feel our presence. It was a hard task because it was first thing in the morning, and not everybody was able to work it out around their jobs but around 15 of us attended.
It was nice to be back at school and it was funny how I was still on the first row while marching (just like in high school)... It's fun to be petite!