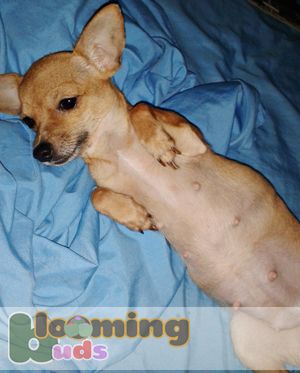 ... and OF COURSE, I'm talking about
Gigi
.
A few weeks ago, Gigi spent a couple of weeks at a friend's house. She has a chihuahua just like Gigi and we didn't know she was in heat.
She had show NO sign whatsoever of being in heat but apparently she was, because they were all over each other. By the time we realized about it, it was already too late.
Of course, I wasn't sure if she was pregnant or not, but today her belly is so big and her nipples are so swollen that I honestly think I'm about to become a grandma.
Doing the calculations, she may be due for sometime in 2 or 3 more weeks. Not only I wasn't ready for this, I also know nothing about dogs pregnancies and deliveries... but I have no other option than dealing with this the best I can..