Mia needed to have an special imaging done on her eyes and it was far from home. I decided to give her a whole weekend for her... just the two of us.
We did the test on Friday and then did everything she wanted to do for the rest of the weekend.
She has always been the biggest mama's girl on earth, and since a few years ago, she has grow a huge need to please me. It wasn't like that on her first 2-3 years of life, but she is extremely well behaved and does everything the way that she is supposed to.
She never really asks for anything and it feels like she spoils me A LOT, so it was nice to spoil HER for a whole weekend.
Mia wanted to watch a movie (
any
movie) and we decided on
Mr. Peabody and Sherman
(middle picture below). It was her first time watching a movie in 3D and also the first time watching a movie without her sisters. She also got to ride the metro for the first time (right picture below). She also loved the mini aquarium at the mall where the movie theater was located at (left picture below).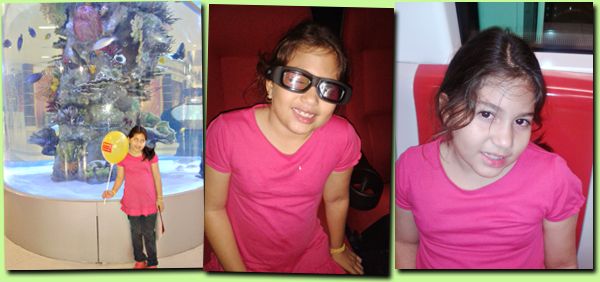 We also had lunch at Pizza Hut with one of my friends and she ate like a pig. We also went to do x-rays for Gigi (we were told that x-rays were more accurate for dogs than an ultrasound at the last stage of the pregnancy) and we found out that I'm gonna be a grandma of FOUR!!! Mia loved this experience.