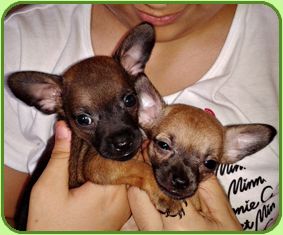 Gaby's love for animals goes beyond the normal love any child can feel for pets.
Since she was a baby and started cruising around, she started feeling a huge love for ANY animal... even ants.
She loves pets, insects, farm animals, birds, reptiles... ANYTHING!
After we had to give away Sassy, she has been begging for any pet for the house.. She wanted a dog or a cat or a hamster or a turtle or a bid or a fish... I promised her that by the time she was 10, she was going to have a pet, and she got her dream come true.
Seeing her with Gigi's pups makes my heart feel with joy, because I can only imagine the joy inside of her heart. She's getting the male for her... We named him Luca and she's totally in love. Her favorite show in the whole world is the
Dog Whisperer with Cesar Millan
and I gotta say has learned a lot... that she cares for them like a total expert.