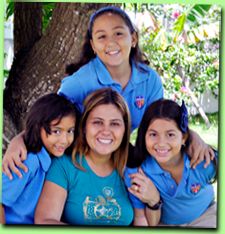 Today was the first official day of school and the girls were really excited. They are aware of the many challenges each one of them will face this year and they are getting ready for them.
I wanted to get a nice picture of them together, another one with me and another one with my nephew. I'm not very happy about the picture with me, but oh well, not much I can do when I can't be behind the lens myself.
The first day of school was a total success and they all loved their new teachers. Gaby has not meet them all, but ones she met so far are great ones.
I can't wait to see how this school year is going to be.
And here are the girls with my nephew...