I have to say that this is one of the parties that I have enjoyed the most. Gaby's actual birthday was a month ago, but the best timing to do a party with a sleepover was this weekend.
I'm thankful that my daughters have always understand when I need to do the parties later on... either because of the budget or because of other factors, and they are always ok with my decisions. They simply get happy and thankful that I do something special for them, regardless of when I do it.
As it was a sleepover and only one mom was staying with me, I decided to have only three guests... That means 6 girls including my girls. Here is the invitation I made for her...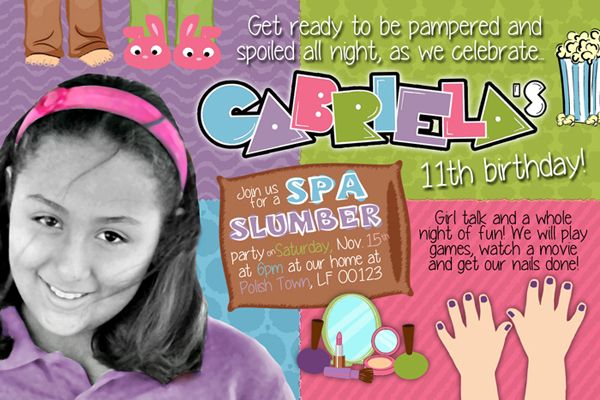 As it was a sleepover, I did a decoration for the night and another for the morning. For the night decor it was more focused on the Spa part. Then, the morning decor was more focused on their breakfast. It was already set up when they woke up in the morning. They were all thrilled!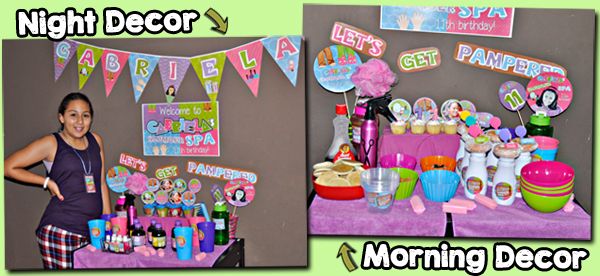 The biggest hit of the night was taking a picture with every hour. The first picture was taken at 7pm and the last one was taken at 3am. They were all still awake at 4am, and I was dead! I was still able to hear their voices but I was unable to move to take the picture!
At every hour they were doing something different. The picture just above on the left was the 10pm picture when they were eating hot dogs and mini pizzas. I lost count of how many times they repeated! Then, the picture next to it is the midnight picture... They were showing off the spa dolls they did for arts and crafts..
Here is the 1am picture while they were eating pop corn and watching a movie. Then, the picture at 3am when I asked them to go to sleep but it took them over an hour to fall asleep.

They really had a blast and they are already making plans for the next sleepover. Here is the thank you note I made...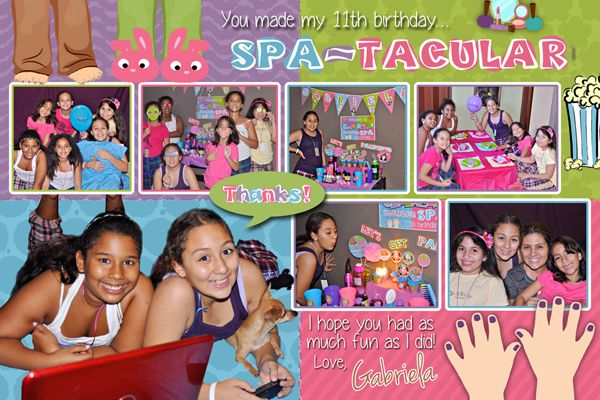 I will be posting pictures of all the designs on my business blog. I will update this post as soon as they are up.