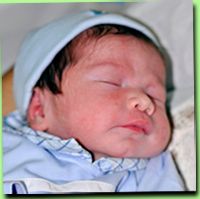 Yesterday was a very emotional day for me. Not only I got to meet and hold my niece for the first time, but also my best friend had her baby boy. I'm 7 years older than her, and it feels like she is the little sister I never had. For that reason, I will treat her son as my nephew and I would love him as an auntie.
She had a very difficult pregnancy with lots of bedrest and progesterone injections... Making it to 36 and 5 days was a huge success! He was born weighting 6 pounds, 5 ounces and 18 inches long.
He is just as gorgeous as his mom and didn't have to spend any time in the NICU. I also got to change a diaper to a one day old baby for the first time in my life! I'm completely smitten with this boy! !