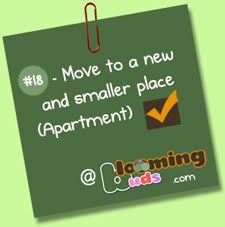 We actually rented the new place 2 weeks ago, however today is when we officially emptied the old house and finished moving all the furniture and boxes to the new place. Im not really sure how I will make fit a 2 floor house into this small apartment, but we will manage.
It also has 3 bedrooms plus a little bedroom next to the laundry room (used for maids in this country), however each room is way smaller and now we dont have space for the outdoor toys. We have also given away a lot stuff, and we will be giving away more once we finish unpacking.
Note from June 2010:
Over 6 months in the new place and I have to admit that LOTS of boxes are still packed. We have been working hard to unpack those boxes in the last few days, and we wont stop until we finish! Being without "those things" for some many months made me realize that I can actually LIVE without so many things, so we will be getting rid of LOTS and LOTS of stuff that we actually dont need.