It is THAT time my girls look forward the most. No birthday or holiday is as important as this date. I may have said this before, but they start making her list for Santa every December 26th. Those items on the lists change a lot during the year, but the line "I want this from Santa next Christmas" is something I hear ALL YEAR long.
There was a leftover cake in the house, and that is what Santa got this year. I know he was very thankful because
he
ate it all. cake from Lila's birthday and he was very thankful... In this picture on the right you can also see the tags Santa had done for the girls.... Also the "Happy Jar 2015" were they will put pieces of papers during the whole year with notes of good moments so we can all read together next Christmas. I got the idea from
Pinterest
and I may do a separate post about it.
At 6:25am they were already on my bedside SCREAMING for me to wake up... They are well trained to know they cannot open their presents without me and before taking a picture... They know better...
This year they also got cupcakes... I did the decor after we picked up all the gifts and mess. They also got cookies and milk... They ate like little pigs...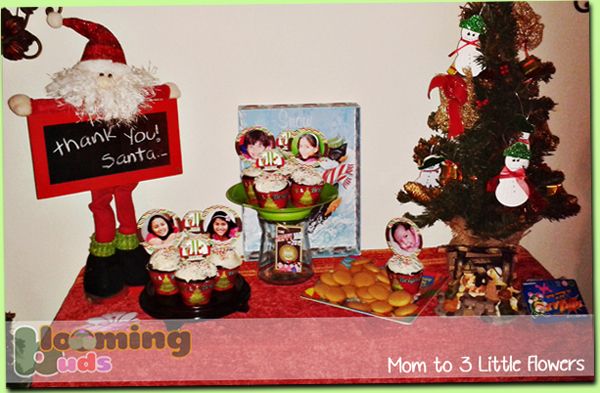 We had LOTS and LOTS of fun opening the gifts and I'm happy to say that I didn't have to struggle much with childproof packaging... Most of the things where things that they were able to open by themselves. As usual, they spent the day playing with their new toys.