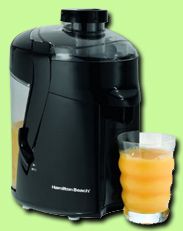 I have been wanting to get a juicer since the longest. When I discussed my diet with the nutritionist at the gym, I asked her to add some juices and promised her to get it ASAP. I did and I'm sooo happy!!
My idea was to make a juice with whatever fruit and/or vegetable that she included on my diet, that I didn't include in any meals for that day. Plus, the ones she actually wrote as juices.
I got a
Hamilton Beach juicer
that I found on sale. I was trying it out today and I learned that 32 ounces is A LOT!!!! (read my sarcasm there)... Most of the recipes online are made for that amount, so I will need to make adjustments for the next one. And of course, I didn't drink ALL that!