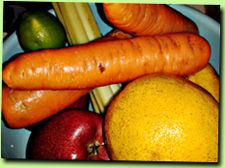 I have been doing the juices that the nutritionist included on my diet, but there are days like today, that I feel more adventurous and wanted to try something different.
I tried another recipe I found online and I learned that I have to use less celery because it killed the sweetness... The best way to describe the taste is that "it tasted like a sweet juice with a #$%* thing that killed the yummy flavor"... But it was still good!!
Can't wait to try more recipes!