Today was my grandpa's viewing and we were all very sad... At 3pm a mass was held, and after the mass my mom and then my uncle said a few words... My mom is not the person that you will usually see talking about her feelings and it was very touchy to hear her talking about how she lost "her baby". He was truly her baby as she was her primary caretaker, and he wasnt able to talk, was in diapers, needed 24/7 assistance, and my mom slept by his side for the last 9.5 months since he moved to her house.
My grandfather was an exceptional person, and all the people that were there couldnt agree more with my mom and uncle words about how any of us have ever met a person like him. He was a very tolerant man than never say a word to hurt a person, that always knew when to talk and what were the right words to say. Nobody ever heard hateful words from his mouth, and even in hard times he never ever complained about anything...
He was over 80 years old when he was still working on his own business and making his own money... My uncles, aunt and mom begged him for years to move to his town and to take care of him, but he always refused and continued working until he couldnt say no anymore... It was around 10 years ago when they convinced him and move him to this town in an apartment...
At that moment he had no real illness except for mild hearing loss because of the age, but always having smart things to say about everything that you said... He was also a very healthy person and he walked and walked and walked on the city that he was living until he move to this town to EVERY PLACE he needed to go... No cars, no nothing... Walking was his best friend, which kept him VERY healthy his whole life...
He was the kind of person that didnt had ANY difference with people doesnt matter the color of the skin, religion or social status... He treated the same to the President and to the kid cleaning shoes in the streets... And it was truly like that.... He always had a smile on his face, and was an exceptional grandfather and dad... I dont think there is one person in the world that ever met him that wasnt touched by him somehow...
The Flowers with my grandpa: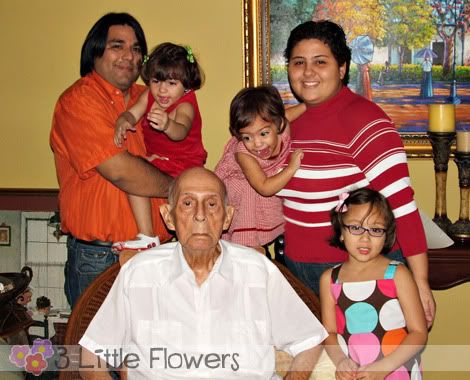 Gaby, my cousin Vanessa (Mimi's Godmother) and my grandpa: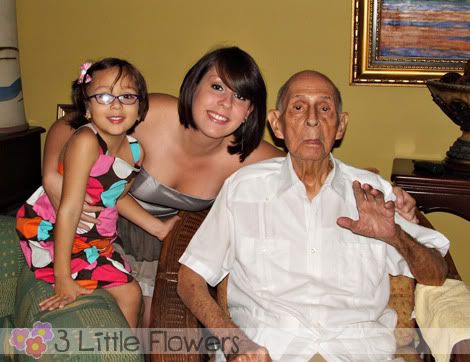 My grandpa with 5 of his kids (my mom is the one in yellow)... There are 3 sons missing on the photo.. One passed away, and the other two couldnt be present that night.....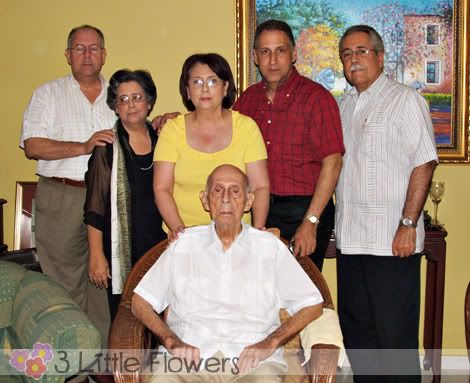 Here he is with my cousin Michel.. I totally love his face on this photo: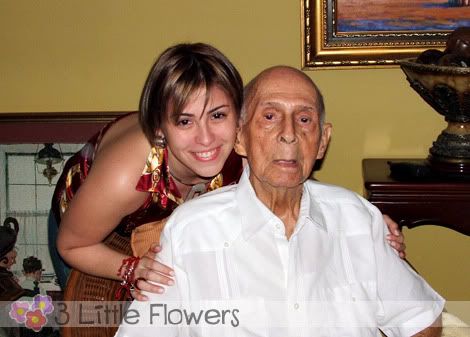 Grandpa Edilio: I love you with all my heart and I will never forget your smile and how much you touched my life... You will be truly missed and I will try to be more like you everyday!