Believe it or not, my new nephew is already 5 months old, and to this day it has been impossible to coordinate a date to get him together with my other nephew... It happened yesterday!!! We didnt spend much time there, because we needed to drop my in-laws to the Airport, but it happened, and Im very happy!!
My two nephews (with Ariel's mom, my sister in law)....
My dad's babies... That is two sons (two of my brothers), his daughter (me), his daughter in law (Ariel's wife), his son in law (hubby), and his 5 grankids (my three girls and my two nephews)... Sadly, one of my brothers is not in the picture... I should photoshop him in!!!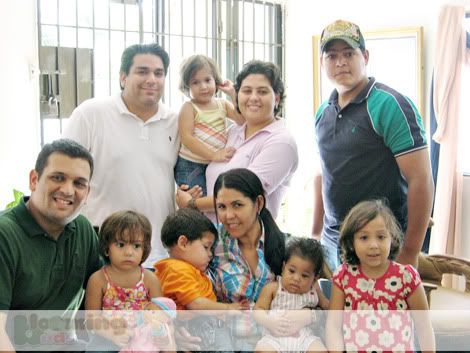 After we dropped my inlaws at the airport, we went back to my dad's house and Luis Enrique and his mom were still there... Here is a picture of him by himself.. Isnt he a cutie?? Im just dying for them to cut his hair..