My girls never stop to amaze me, but in the last few weeks I have been able to see them growing in front of my eyes in a way I cant even explain.
As I have mentioned before, bedtime has never been a real issue in this house. The only challenge we had once was kicking Mia out of our bed, but we did it and she sleeps happily in her bed every night. There are a few days where she would try to sneak in our bed, but we send her back to hers, and she will walk back to it.
Anyway, I was a bit hesitant about
moving Mimi out of her crib
, however, she haven't stop to amaze us since day 1. She actually walks in to her bed, asks for a kiss and a hug, and then she gets comfortable and falls asleep. Even when Mia tries to sneak in our bed, Mimi will follow her to find out if we would allow her in our bed… When she sees that we are not going to allow her, she actually runs back to her bed, no questions asked.
The only situation is that they all want to sleep together, so we had to put the beds right next to each other, but I truly don't mind for now. I plan to get each one of them a new comforter with their favorite characters,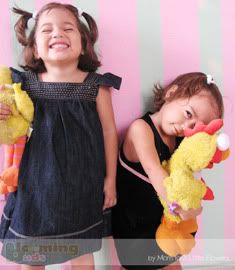 still haven't decide which ones are those… Probably for Gaby can be My Little Pony, for Mia can be Mickey and Minnie, and for Mimi can be Dora…. We'll see. Maybe, after each one has their new comforter, they will want to sleep in their own bed.. Who knows? Or maybe I could get somebody on Etsy to make me comforters with their flower color: Purple Flower for Gaby, Red Flower for Mia and Pink Flower for Mimi... Who knows? That is part of my
101 tasks (#4 to be exact
), so I need to get into that...
As Im still camera-less, I have no new pics for this post, so the pic Im adding is from last month when I was trying to get
a photo for a sample card for a Sesame Street set for my shop
.