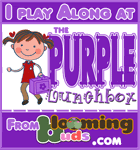 This week was way better than the previous week... It was MAGIC CARROT week and it worked perfectly.... She still didnt eat some of the other stuff that I sent (some of the fruits were untouched), however she did ATE all the things with carrots that I sent for her.. WOO HOO!!!

To keep up with "hide the veggies" idea, this week we will play MAGIC BROCCOLI. We will come up with 5 different ways to eat broccoli... If you guys want to play along, Im open to any ideas or suggestions... I know I can make Puree Broccoli (I used to make puree Cauliflower with a South Beach Recipe), so I hope it tastes as good with Broccoli.

Here is what Gaby got this week:
MONDAY:
- Cheese in shapes (you guys can hardly notice, but there are hearts, circles, triangles, among others)
- Crackers with mayo dressing
- 2 slices of Ham
- Apple Wedges
- Apple and Carrot Juice
Comments: Even though I sent juice everyday, I never take photos of it... Today, Im including it in the photo, because there is where the magic carrot is... My mom has a Power Juicer, so we stopped by her house the night before to make the juice with it... It has TONS of carrots and Gaby LOVED it... When I picked her up I asked her if she knew what kind of juice it was, and she was happily surprised when I told her what it was. She hardly touch the apples, but that is Ok as she still got her fruit with the juice.

TUESDAY:
- Ham and Cheese Sandwich with a homemade carrot dressing
- Strawberry yogurt (with Strawberry chuncks)
- 4 slices of ham
Comments
: She ate EVERYTHING... She loved the sandwich and when I asked her if she knew what the dressing was she said YES. She told me that she opened it before eating it and that the carrot dressing was really good.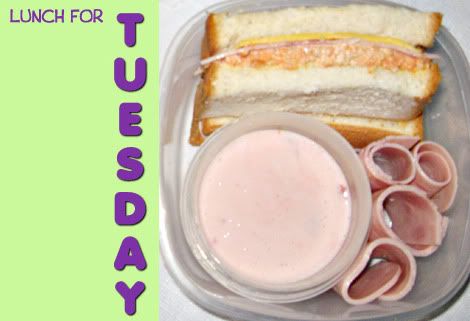 WEDNESDAY:
- Crackers sandwiches with the same carrot dressing from yesterday
- Rounded pieces of carrots
- 1 triangle of the Laughing Cow
- 2 slices of cheese
- Peach wedges with chocolate sprinkles
Comments:
She didnt eat the peach because "she didnt know what it was" (I have gotten that excuse several times already) and the pieces of carrots were almost untouched... However, she ate the carrots from the dressing on the crackers, and everything else.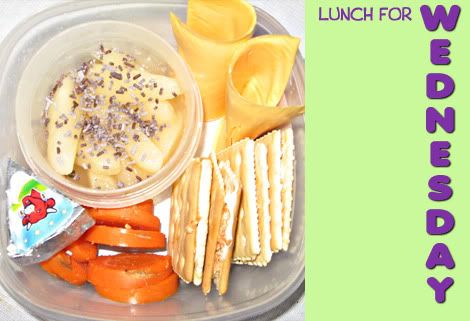 THURSDAY:
- Breadsticks with tomato sauce
- Chocolate pudding
- Orange Juice
Comments:
Hubby had to buy her brunch at school today, because I went to sleep at 4am and I just couldnt get up to make her something... I still cant believe what he gave her, but of course, she ate it all.. LOL
FRIDAY:
- Carrot cupcakes
- Strawberries with a little bit of vanilla frosting
- Crackers with mayo dressing
Comments:
We ran out of bread and tortillas so I had to send her crackers again... They are low fat and still tummy fillers, so Im Ok with that. I still have no idea if she will eat everything, but I bet she will love the carrot cupcakes!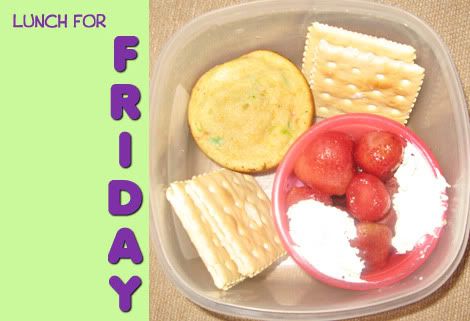 If played along this week, share your link here: