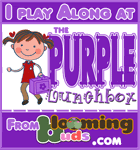 This was the worst week since I started the Purple Lunchbox! First of all Im late doing this post… Why? Cause Im having Internet issues at home since the beginning of the week, and Im driving myself crazy! Second, because Gaby is hardly eating what Im sending her!… and third, because it got very difficult to take the photos; and on Thursday I couldn't even pack her lunch!!! That is just A LOT of issues for one week! (Yeah, Yeah, I know it is not the end of the world, but bare with me here).
The main reason why Gaby stopped eating her lunch is because she just doesn't want carrots or baby corn when her friends are having Cheetos and Oreos. Also, she prefers to eat the tummy filler (the wrap, sandwich or whatever carbs I sent that day), and then go and play. So, as I had spot the problem, I need to focus in a solution for next week.
PLAN:
The plan is to HIDE the veggies. I honestly wasn't looking forward to do this, especially since she actually likes some veggies. But, if she doesn't want to eat them in school because she is embarrassed (some kids actually make fun of her healthy lunch, and some even ask her: "Are you going to eat THAT? Why?".
I know there are other solutions, but in the meantime, at least for a few weeks I will hide the veggies… I have no idea HOW I will do that, but I will do my homework (Thanks God for Google) and I will come up with a few things to do.
So, if you want to try something different this new week, why don't we all try: "5 WAYS TO COVER UP: CARROTS"… I will try a different thing EACH day of the week with CARROTS.
Here are this week's lunchboxes:
MONDAY:
(No photo because the camera was a no show)
- Ham and cheese Sandwich
- Apple Wedges (a full apple)
- Cherrie Tomatoes
RESULTS:
She ate the sandwich and some apple. Tomatoes came home untouched: She just wont eat them.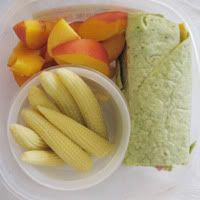 TUESDAY:
- Spinach Wrap with Ham and Cheese (2 pieces)
- Peach wedges
- Baby Corn
RESULTS:
She eat one and half wrap and leave EVERYTHING else! The funny thing is that she loves those wraps so much that she always complains that I don't send more… So, today, she didn't even finish those. Peach and corn were untouched. She complained that the corn had no dipping and asked me to send them again tomorrow with dipping.
Today I also sent hubby some lunch:
- Rice
- Boiled Egg
- Cherrie Tomatoes
- 1 mozzarella stick (cut in 2)
- Pineapple slices
RESULTS:
He didn't got full and was starving 3 hours later! I don't plan to send him more food than that, instead Im going to teach him to get full with that amount because it is just enough for him.
WEDNESDAY:
- Crackers sandwiches with a homemade dip made with Mayo
- 1 mozzarella stick (cut in 2)
- A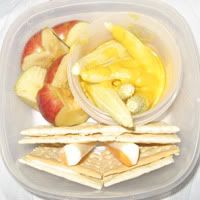 pple Wedges (a full apple)
- Baby Corn with melted cheese
RESULTS:
She ate the crackers, the cheese, but she barely touched the apple and didn't even look at the baby corn. They were actually swimming in cheese as she asked yesterday, however she told me that she didn't know what it was and that is why she didn't eat it. Sigh! Still not sure why she haven't been eating the apples because she LOVES apples.
THURSDAY:
(No photo)
Today I couldn't pack lunch for her (I will talk about what happened Wednesday night in detail in another post). Anyway, I didn't give her money. Instead, hubby bought the things for her. He got her a Ham and cheese Sandwich with a biscuit (plus the juice).
RESULTS:
She ate everything and actually told me that she prefers that, instead of the veggies and fruits… How motivating she is to me! NOT!
FRIDAY:
(No photo)
- Baby Carrots with melted cheese
- Pineapple slices
- 1 mozzarella stick (cut in 2)
RESULTS:
Today I decided not to send carbs to see what she was going to do, and she still didn't eat right. Baby carrots were untouched, and she drank the juice out of the pineapples and didn't actually eat them. The only thing she actually ate was the mozzarella stick.
If played along this week, share your link here: