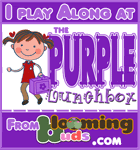 This week we had a day off Thursday, so Gaby only had 4 lunchboxes... I was only able to get the Cauliflower done one day, and Gaby said it was yucky, and I honestly dont want to push it... Cant understand how something that is so yummy for me, it is so yucky for her, but oh well... I think we will moving on to another veggie...

I plan to make next week "MAGIC GREEN"... I will try a variety of green veggies... We'll see how that goes... If you guys want to play along, Im open to any ideas or suggestions...

This week I didnt had my dad's camera with me, so while I get my new camera, I think we will be getting nasty cell phone photos.... Here is what Gaby got this week:

MONDAY: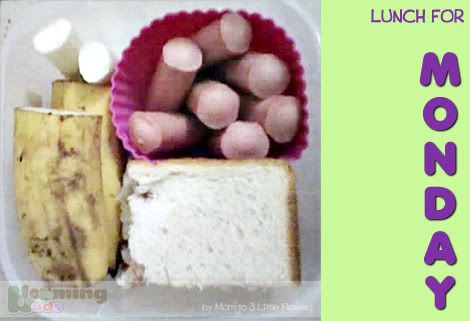 - Chicken sausages
- 1 mozarella stick (cut in half)
- Peanut butter and strawberry jelly sandwich
- A banana
Comments: She had an issue in school and she didnt had time to eat her whole lunch... She only ate the sausages and cheese... She adores bananas, but she didnt had enough time.

TUESDAY:


- Cauliflower puree (boiled cauliflowers, then made puree in the chopper with some skim milk and butter).. I also put cheese on top, which is all you guys can see..
- Salty crackers
- 3 rolls of Ham with olives
Comments: She ate everything except for the cauliflower..

WEDNESDAY:


- Spinach wrap with Ham and cheese with mayo (cut in 4 due to space)
- A handful of olives
- Mixed of berries yogurt
Comments: She ate everything except for 2 or 3 olives...

THURSDAY: NO SCHOOL

FRIDAY: No photo
- Low Fat Cookies and Cream Granola Bar
- Mozarella cheese stick
- Sandwich of Cheese and Ham with olives
Comments: She ate everything as I was expencting.. LOL.

If played along this week, share your link here:


Dont forget to leave your comment, even if you didnt participate!! You guys know how much I love comments!!!!