As I mentioned before, Mia only had to go to preschool Wednesday and Friday this week, so she was "preschool-less" on Tuesday and Thursday. Her godmother lives in Spain, and came for visit for a couple of weeks, and wanted to see her... So, I mentioned her about her "days off" and we agree on Mia spending the time with her!
When we got there, she was on "defensive mode" as she got the feeling I was going to leave her there. She is very independent, but she also is very attached to me... That house was a new place for her, and she has spent little time with her godmother as she lives so far away.
I tried to take a picture of her but she wasnt very happy about it, and here is what I got: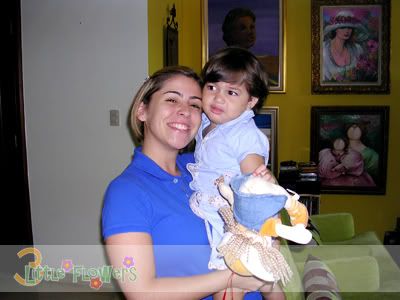 Her godmother is an awesome Early Education teacher, and she is actually getting a master in Spain on Therapeutic Psicomotricity (for kids with psicomotricity disabilities)... So, I KNEW she was going to be able to make her happy as soon as I were out of the door!!
When I got to work, I called her and she told me how happy Mia was... They have a mini "school room", and her sister (who is also a teacher) was running a home daycare (or something for that matter) at their old house... They moved, and now have less space, but they kept the room as my uncle and aunt have several grandchildren.
I forgot to tell her to check on Camila's gross motor skills, as I think she falls too much, but she did mentioned later over the phone that her fine motor skills were very good, as she can stack tower of 10 blocks, which is somehow advanced for her age.
Here are some pictures that she gave me, including a picture of when she felt asleep just before I went to pick her up!! She was so beat up that she actually didnt woke up until the next morning!!