We have been tagged again, this time by
Lisa
. As I said the in
previous post
about this, I will do one for each one of the girls and one for hubby... Last time was
Mimi
, and today will be Camila aKa Mia.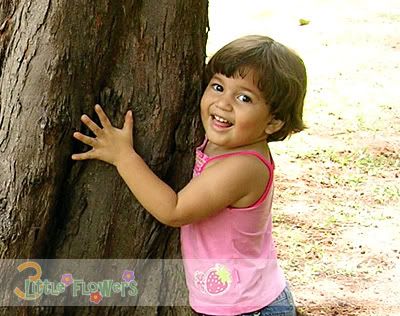 1 - Mia loves shoes.... She was all about being barefoot or with flip flops (hence her birthday party
theme
), but after she
started "school"
a few months ago, her love for shoes started to grow... They told me she was taking her shoes off every day, and they started working on it, and now she wont be barefoot, not even on top of the bed! So, she wants to wear shoes even in her sleep!!
2 - She is my wild child... She will do thing so quickly that you wont even realize until it is too late... While a normal child her age is trying to get on top of the sofa, she is already on top of the kitchen cabinets!! Nothing stops her! She also jumps and dance non-stop!
3 - Mia is the funniest flower... She will laugh just about everything, even if you are sending her time out. When is time to cry, she will cry harder than any other kid on the blog, but when is time to laugh, nobody can be louder than her...
4 - She is a mama's girl... Since she was a newborn she has always been more attach to me than anybody else, and still is. She loves daddy to pieces, but mommy is something else!
5 - She is very outgoing and friendly... Even though she is very much attached to me, she is also independent and will stay in any place that I want to leave her. When she started " school" for the first time, she cried for the first few days, after that she has been in two different Summer Camps and she has made the transition from one to another just great... She is happy in any place.
6 - She acts different at home than at "school". At home she is the one that bites, pull hair, pinch, and all those things from the terrible two's. At school she is the quietest and sweetest little girl. I mean, she is still very sweet at home, but she is not quiet at all at home!
7 - She loves dolls and pretend play like there is no tomorrow. She would never get tired of playing with anything that pretends real life.