Mia's theme for her party is: "Flip Flops". Some people don't understand the theme, and even think that Im crazy, but after
Gaby's Berry Princess party
, I promised I was going to find an easier theme for next time.
There are soooooooo many things in Oriental Trading for flip flops that I knew I was going to use that someday for a party. Why this party? First, because if there is a child that LOVES using flip flops is her!! She actually feels weird when she is wearing shoes or snickers. Another reason is because Mia loves water, so Flip Flop theme means to make a party with water.
The only bad thing about this theme is that everything has to be bought online, because there is nothing at the local stores. The party will have 10 kids, and besides their parents, we will invite around 5 more people.
If anybody has any ideas to make this party cheaper, Im all ears (well, eyes).
Im not sure if Im actually going to buy everything from the theme (like cups and plates, but I do know that I want to buy a few things... Here is what I have in mind so far:
Flip Flop bags:
Inflatable Color-Your-Own Flip Flop Beach Balls: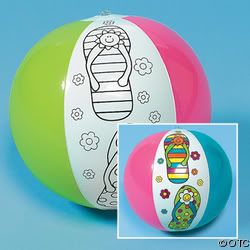 Flip Flop Hooks (of course, I will keep these all year long... and the funny thing is that it comes three.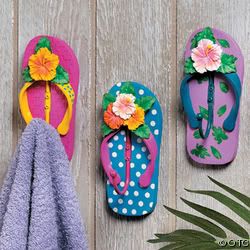 Sandal Foot Notepads (Im getting this thinking about one of my cousins who is already too big for a goody bag, so I wll get this and will give it to the adults, including her.)