Even though today was pretty busy about Mia's party, the main event of the day was hubby's birthday. He turned 29 years old today. He has changed so much since we met, but he is still the same sweet, fun, loving, family oriented, hard working guy that I felt in love with 11 years ago. Im really proud to be his wife, and that I hope to be by his side while he turns many and many more years.
After the party was done, and with the same mess intact in the house, we went for dinner in honor to his birthday... The best place to go with the girls was Pizza Hut, so there we went. We sat close to the playground, but there were some rude kids, so we moved to the other side of the restaurant where they have a TV with cartoons, and luckily the girls forgot about the playground. My mom was with us, as she was actually the one inviting the dinner.
I was doing a translation job with my mom and Cara, and everything went great.... The Pizza Hut team even sang Happy Birthday to him (sadly I forgot to record it, even though Cara got the end of it when they were just singing their "song to close the show")...
Here are some pictures.... Cara and Mimi having fun: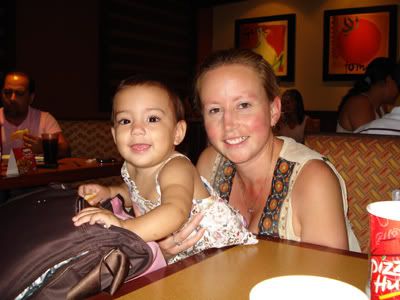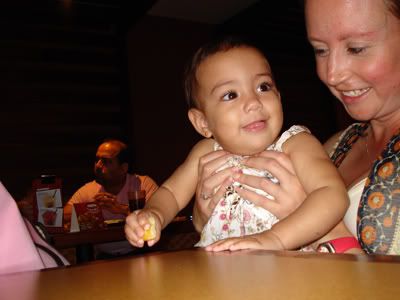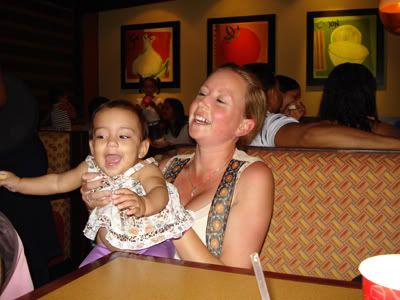 The birthday boy and Gaby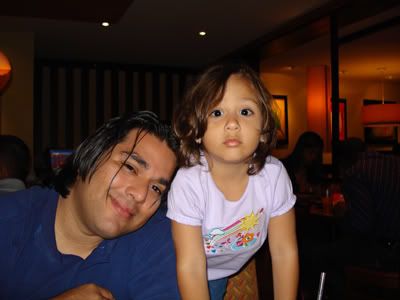 Mimi having fun with my mom