- First time that I go to work outside of my house after I was pregnant with Camila (over 2 years ago)
- First time that Mia goes to school
- First time that Mimi goes to daycare
- First time that we need to pack 3 bags and 3 lunchboxes to get ready
- First time that we wake up the girls and interrupt their dream for them to get ready for something (we have done that for Gaby before, but not for Mia or Mimi)
So many firsts and so little pictures.... As I still dont have my drivers license and Im a lame driver, I grabbed a cab with Mia, while hubby dropped Mimi is her daycare along with Gaby (as the principal dont have any problem if I take Gaby or Mia for one day, I took Gaby so she could take an eye on Mimi as the big sister she is)....
As we just have one camera right now, just one of the girls have pictures, and that is Mia... Here are two pictures (one in the cab and the other one when she got in her classroom)... She still doesnt have her uniform, but I dressed her with one of the colors of her uniform (the use kakhi pants, and red, blue or white shirt).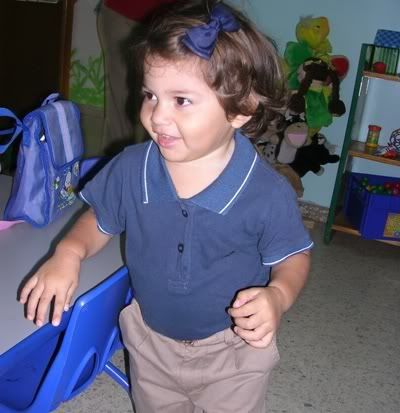 My day started off difficult, as for some reason I wasnt able to SEE!! Some eye drops help me a bit but I was having a hard time.... I was positive it was the chlorine from the pool, but I wasnt sure.....