I have been wanting to buy the girls a drinking bottle and food jar that I saw a couple of months ago and felt in love with. I have read some great reviews about it, and everybody brags about them REALLY keeping the food and drinks cold or hot for several hours. They are called Foogos and they are from Thermo brand.


My friend Cara wanted to buy the girls a present for them to use to school... So, what a better gift that something that they will use every day!!!! She got Mia and Gaby a Foogo Food Jar and a Foogo Bottle with straw to each one. As the girls eat lunch at school, this will be great for them as we pack the food really early (around 6:30am), and we want to have something that will keep the food at least warm by the time they eat it.
The
food jar
holds 10 ounces of food and it promises to keep the food hot for 5 hours (or cold for 7 hours), and people brags about this being true. In the worst case scenario I hope they are at least warm (that's the one pictured on the right)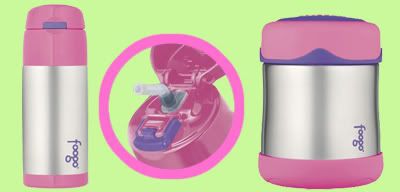 The
drinking bottle
holds 12 ounces, and it promises to keep drinks cold or hot for 12 hours. This is very important, as we send them juice for the morning snack, and then another drink for after lunch which was always way far from cold by that time.
She also got something for Mimi but it still havent got here...
Cara: Thank you very much for this wonderful gift!! I already told them that auntie Cara got it for them, and showed them a picture of you so Mia can understand who is the person that Im talking about (Gaby knows exactly who you are). As I have always said: "You are an angel in our life".