For the past few days I have been trying to find out about the date of Sister's Day. Crayola swears that it should be celebrated on
August 3rd
, while Hallwark says it should be celebrated
August 5th
. I got to Holiday Insights, which is the place where I really look when I want to know the date for something... It says that Sister's Day is celebrated the
First Sunday of August
, and it does have more sense to me. So, we will take the first Sunday of August as a day of celebration for the three little flowers.
We planned to go to the beach, but I had a big project that I needed to finish, so we cancel it, and instead we put up the pool in the backyard and made them have some fun. I told Gaby that it was Sister's Day, and she spend the whole day telling Mia that she cant yell or hit because "there is no fighting on Sister's Day"... How sweet!


As I have said before, I pray and dream about my daughters being the best sisters and best friends in the world.


A few months ago, I did a collage for a group of girlfriends, and I was dying to use it with the girls... So, I did it today... Here is their Sister's Day collage... I hope to print it and put it in their bedroom.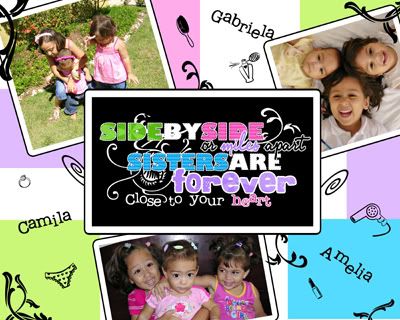 Happy Sister's Day to all the sisters out there! I dont have a sister by blood, but I guess God made enough with giving each one of my daughters not one but two sisters to love and care for.