Gaby got punished (I will talk about it in a future post), and we took away the trip to have an encounter with dolphins that was scheduled for today, so we needed to find something else to do… My friend still needed to run some errands, so hubby and I took 5 kids with us to a close by town called Sosua.
We had an early lunch, and then left. We spot a very nice place on the beach surrounded by high cliff walls.... We were in the beach area of one resort, and we were mostly the only that were not staying in the resort.... This is one side of the beach: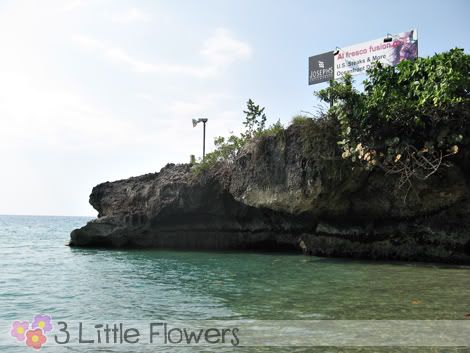 And this is the other side: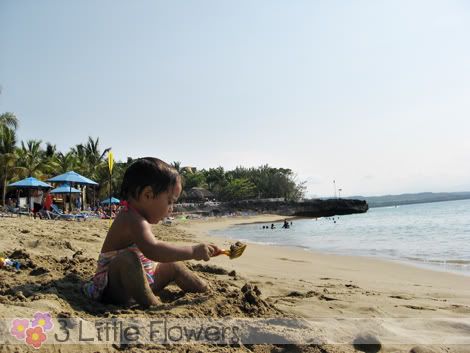 As you can tell it was a very small area, and hubby thought it was the best beach he has been so far in this country. The waves were a bit dangerous for young kids, but the beach was sooo clean, and the sand was also sooo clean and soft, that all you want to do is to lay down in there forever... Here is Mia enjoying the sand: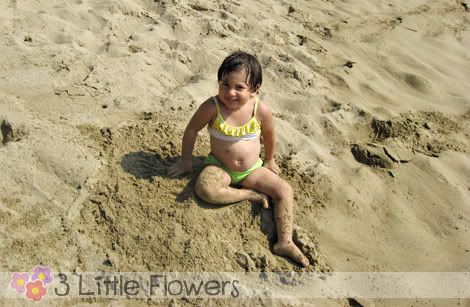 Gaby loved to watch the waves: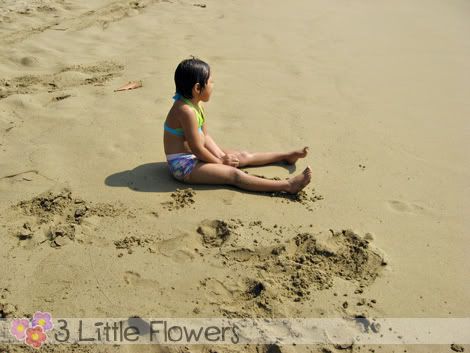 Here I am with Mimi, Kim and Cristian in the water: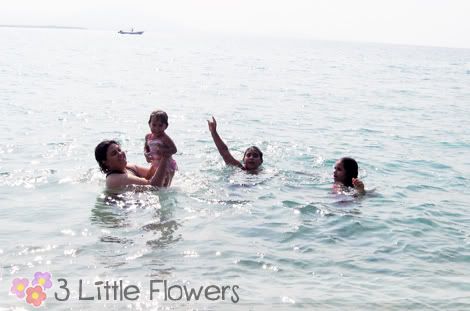 All the girls playing in the sand: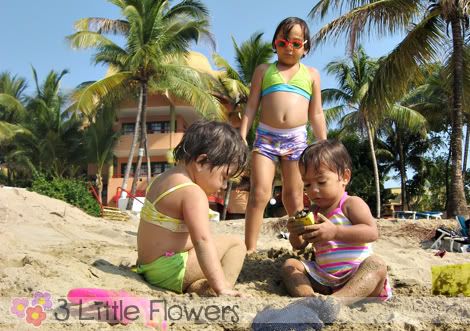 Mimi being cute for the camera: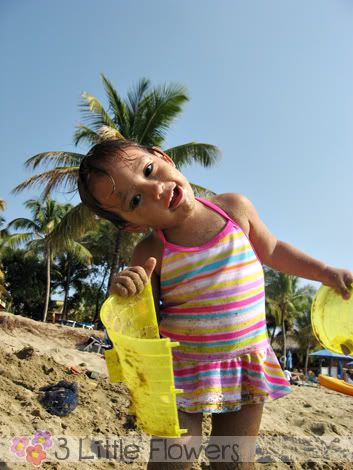 Gaby bringing water to build the sand castles: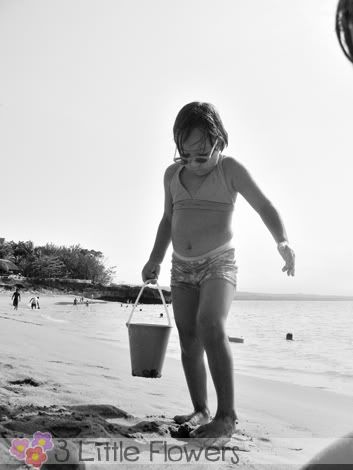 More sand play: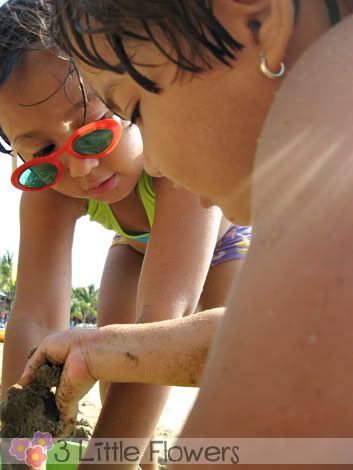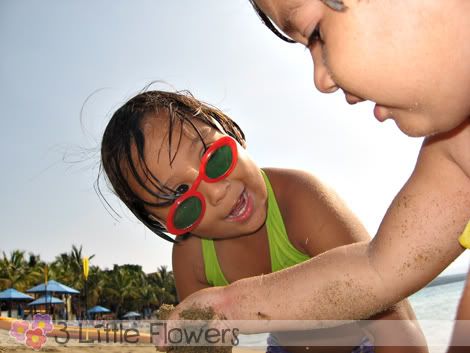 Hubby getting ready to be burried in the sand: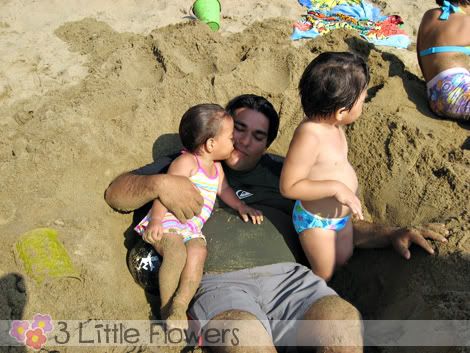 Mimi and hubby burried in the sand: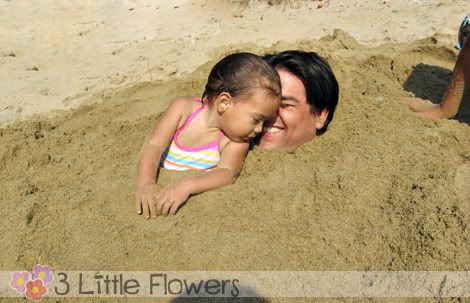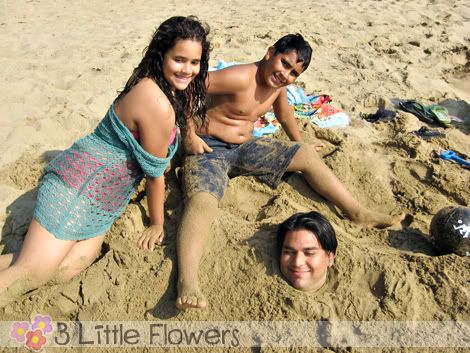 More sand and water so he couldnt get up:
The sitter from the resort that was right there, was around with 2 little girls she was taking care of... The lady asked Gaby to join them:
They are suppose to be mermaids: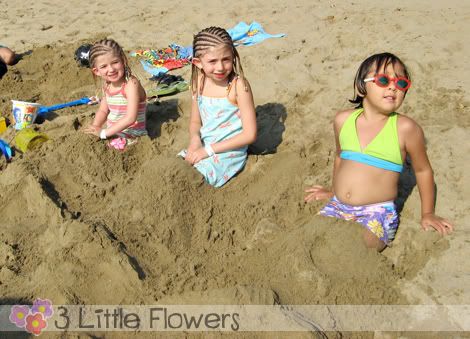 After a very fun day, we headed back to the villa. We had dinner, get the girls ready for bed, and then drop them off at my friend's villa because hubby and I were getting a night out!! Our second of the year (and also second in the last 5.5 years).
We have been in this country for so many years already, and hubby havent been to a movie theater since we got here... When we were living in New Jersey, we used to go to the movies SEVERAL times a week!! Sometimes we will go everyday!!
The movie theater was in the mall from
Sunday
, and it had three movies... Im very much into girly movies, but there werent many options, so we decided to watch "Underworld: Rise of the Lycans" (by we decided I mean hubby pushed and I agreed.. LOL)... At home Im the one that normally gets to choose what we watch, so it was his turn...
It was fun as we were the ONLY ones watching that movie, as all the other people decided for a local movie that were playing. After we got out from there, the mall was mostly closed, and we decided to head out to the Casino. We spent less than an hour in the Casino, and we had two incidents!! Just when we were out of the money that we bring in, hubby made $30 dollars... It was suppose to be 30 coins of one dollar, but the machine didnt throw the coins... So, we had to call the people from there, and 15 minutes later, and 4 guys later, we got our $30 bucks... Hubby and I decided to go and cash the 30 coins, when we realized he left the cell phone somewhere... We called security and they started rolling back the camera from the machine we used, when I realized it was in a black spot of the machine, and it was impossible to see it, cause the cell is black...
So, we left $10 bucks richier (as we put $20 bucks to get in), and decided to stop by another Casino at spend those $10 bucks... We got out from there with $10 extra more, and then we left... It may seem like little money, but we cant afford to put money into gambling and we just did it for fun... At least, we left with the same $20 bucks we put in PLUS $20 bucks more!!!
When we got to the villas the girls were asleep, and we transfer them one by one to their bed in our villa... It was a great day and an awesome night!!!