Today we were suppose to go back home... However, we decided to stay one more day as somebody mention about a very nice water park that was VERY inexpensive ($10 bucks for the adults, and all the 3 girls were free as we could still pass Gaby for a 4 years old girl). Kimberly and Cristian were going with us (kids from 5 to 12 were 6 bucks, and they both fit that age..).
We packed the car and off we went! Suddenly hubby noticed that the car wouldnt move correctly after 40 km/hour, and was acting funny... It was already 11am, and we decided to look for a mechanic... Just in case.
FOUR HOURS later, we were still in the mechanic and the car was ready. It was the hottest day from the whole week, and you guys dont want to imagine what it is to deal with 5 kids in a mechanic. Dont even want to look back and remember.
After the mechanic, we decided to go to the local beach that we went on
Monday
, and I even left the camera in the car so I didnt had to worry about it, and freely be able to get in the water. We ate a bit when we got home, and then hubby and I took a nap while the girls were playing with some of the toys we took for them (mostly Little People). Here is a photo of my now brown little girls: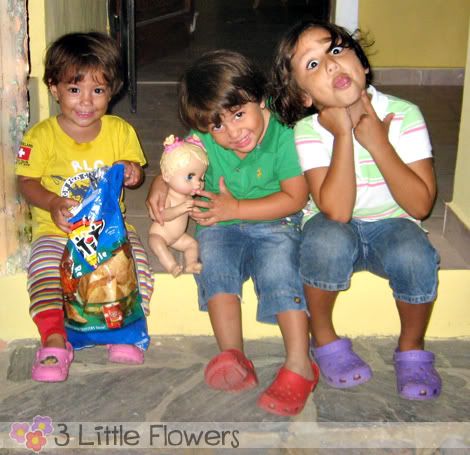 Then, the girls stayed for a bit with my friend while hubby, me and the two big kids went to the cyber cafe to get online.... I had a few things to take care of, and even though hubby wanted to stay until Saturday so we could go to the park tomorrow, the amount of work that I realized I have became scary (LOL), so we decided it was better to leave tomorrow.