Remember the
Backyardigans Invitation
that I did a boy named Ethen?? Well... His mom ordered some Treat Bags Tags, and Candy Bars Wrappers. As I still havent put out samples of the Party Package in the site, so I wanted to post them here......
Treat bag tag (this can have the name of each guest, at no additional cost). As she is having a pool party, she is actually going to attach this to Beach Pails... I suggested her to make holes with a
punch hole
, and a little bit of ribbon... So, here it is: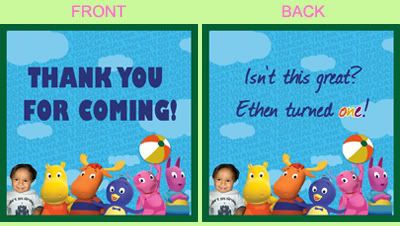 That little text in the back is a watermark that says Thank you and "Gracias" (thank you in Spanish, as they have Hispanic Background).
Here are the wrappers... The back goes backwards, so it looks fine on the candy bar and it has a space to paste it with glue... It is made to fit two in a regular 8.5 x 11 paper.
Im still not 100% about the price... I googled around, and I kinda set it in $15 for the wrappers design, and $12 for the Tag design. I will love to hear what do you guys think about the price...