We got here a couple of hours ago... I cant find the right words to thank you all for your emails, comments, and calls, and especially for all your prayers!!
I always knew my daughters were going to start getting sick with the little schools, I just never imagine it was going to be this bad.
The girls were having a mild diarrhea since a few days ago... The stool was somehow loose, but it wasnt that often. They also throw up sporadically over the weekend. So, we thought it was just something that they ate. The pediatrician was away for the long weekend that we had (Monday was a Holiday) and I couldnt get in touch with him until Monday night (I actually didnt talked to him, but I talked to his new partner). As it wasnt severe, she told me to give her a medicine to keep them from throwing up and to take them early for a check up (unless, of course, they started getting worse in the middle of the night and I needed to take them to the ER).
I wasnt feeling good either, and I had a very bad stomachache. In the morning while I was getting ready for work, I was going to the bathroom non-stop, so I decided to call in sick. As the one that looked worst was Mia, I decided to keep her with me, and hubby took Mimi to her old preschool that was a couple of blocks away from the house. We had in mind to take them all to the doctors office by the afternoon, so hubby didnt had to miss work too (as I was not feeling good).
I lay down next to Mia and later on she woke up throwing up like I have never seen a kid throwing up.... I called hubby to come inmediatly and while I was waiting for him Mia throw up 2 more times. I called Mimi's school to tell them to have her ready for pick up and that I was going to leave Gaby with them (as I know how difficult was going to handle a "healthy" kid in the ER). Mimi didnt throw up at school, but did a very loose poopy.
I wont tire you with what happened in the next 2 hours... I will shorten it to: "I took them to their pediatrician, who was full, and who told his secretary to tell us (not himself), to take them to the ER, and that they were going to call him from there... He couldnt just look at them for a second... He also wanted us to take them to a hospital that I hate, and then the one that we were in.... So, after 2 more throw ups of Mia we decided to try our luck in a new hospital where he doesnt even work" (this Hospital is the same one that we took Mimi the other
night
).
We got there, and all the eyes were focused on Mia... She was severely dehydrated, and they needed to do something quick. First thing to do was to give her
Pedialyte
and an injected medicine to stop the vomits. Mia was refusing to drink the
Pedialyte
, so we tried
Gatorade
too (with no luck). We did everything possible to avoid an
IV
, but she refused to be hydrated orally. While she didnt cry AT ALL when they put her the
IV
, she cried desesperately for a couple of hours trying to get the
IV
out. They took her stool to the lab and they also did some blood work. The blood test showed that she had anemia (which she didnt had a couple of weeks ago when we did her blood work), and was showing signs of a virus.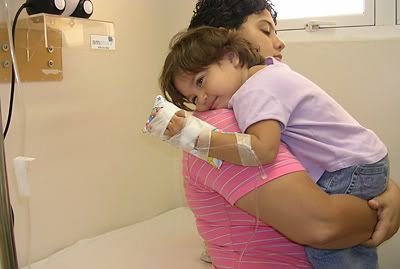 While we were waiting for the "stools" result, the pediatrician that they recommend me (and also called) got there, and I loved her from the very first second. She had news from the stools, and it came with a severe
Amebiasis
!! Minutes later, Mia was being settle in a room as she needed to stay.
When we were starting calling my mom and the place where Gaby was, the pediatrician comes with Mimi's results.... She wasnt just with the same
Amebiasis
, but she also had
Rotavirus
!! She also was anemic (which is wasnt a couple of weeks ago either), and her
red blood cells
count were lower than Mia's. This meant that they were both going to stay, so they transfered us to a room with 2 beds.
I cant even begin to explain this experience, and how it changed our lives forever. You may hear what it's like and you can even imagine it, but you dont know what it is to have two non-talking babies hospitalized for 2 days attached to IVs, sleeping in beds (not cribs), starving and not being able to have food or even milk for the first day (just clear liquids), until you actually live it yourself.
Hubby and I couldnt take a shower, because there was no way to let them go for a second, or make them sleep without having us right there... We had Mimi's carseat (which was a lifesaver), but we couldnt turn around for more than one minute without finding her sucking on the IV cables, or even trying to pull them.
Gaby throw up one time, and even though she didnt had to be hospitalized, she already had a mild version of it... So, we all got medication for it, even though the real affected ones were just Mia and Mimi (just to be on the safe side).
Mimi playing with the IV cables:
Camila while she was getting ready to have her IV off: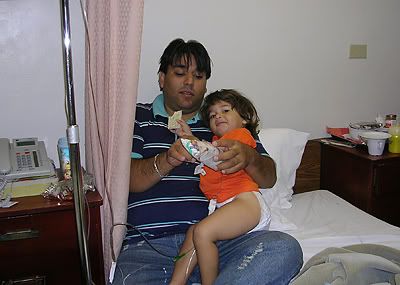 Mimi seconds before they took her IV off:
Thank God we are home, the girls are hydrated, and getting better. We still have our journey half way as they may keep the diarrea for 7 to 10 more days, but so far they have hardly poop since we got here...