As I was being checked for high blood pressure after my pre-eclampsia with Mia in April 2006, I was not allowed to use a birth control method other than condoms. At my 6 months postpartum check up, I was suppose to be checked to see if I was able to get on another type of birth control. I was late for my checkup, but I was also late for the period!!
December 2006
I found out that I was pregnant and I was almost over with the first trimester. My period is very irregular, so I wasnt "missing" much, and it was impossible to be pregnant as for the FIRST TIME in my life, I was actually using birth control (a condom, that by the way, never broke!!).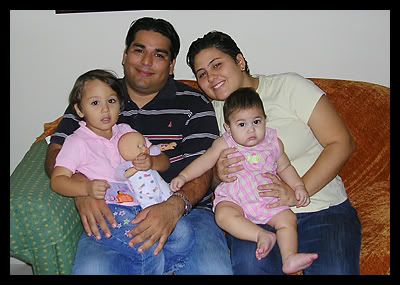 January 2006
At this point I was over 12 weeks pregnant with no medical attention so far, overweight, and with a history of pre-eclampsia 5 months before I got pregnant. Three doctors refused to take my case, and one even suggest me a termination for medical reasons. It was risky, we were not ready, I had no medical attention, BUT there was NO WAY I was going to abort my baby.
I found an OB, that not just accept my case, but that also was very optimistic. He was very young, but we got the feeling that he was the one that was going to make this possible (along with God's hands, of course). He was in my mom's town almost 3 hours away, but we were going to work it out.... He asked me to go every 2 weeks and gave me his cell phone humber for any emergency.

February 2006
As Mia was already over 20 pounds, and I was feeling pain while holding her, my OB asked me not to hold her. I was home alone with her until 6pm everyday and she was a VERY high needs baby, so it was impossible not to hold her. My OB asked me not to do chores at home, no sex, and very low activity. My mom, hubby and I had a talk, and we decided it was the best for Mia to stay at my mom's house. I was *living* at my mom's house for 2 weeks, and then 2 weeks at my house... That way Mia was having her mom for two weeks at my mom's house, and then Gaby will have her mom for the next two weeks at our house. It has been one of the most difficult decision that I have made in my life, and it still hurts when I think about it. But we were doing what it felt it was the right thing. (Notice on the picture, how I look with the same shirt 5 weeks later).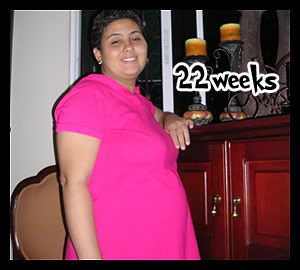 March 2006
I was having the most unevenful pregnancy of all three, and I was loving it. The traveling back and forth was driving me crazy, but my baby was fine, and that was the most important thing. In this month I started taking L-carnitine, which (among others) is a medication that is usually prescribed to children and seniors with lack of body fat. He wanted to start giving "the baby" something, because he wanted to wait at least until I was 28 weeks to give me 3 doses of steroids.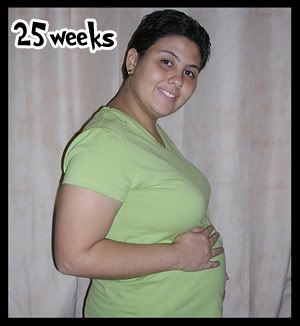 April 2006
Contractions started at some point, but I always get them early, so it was not a big deal. As I was taking my blood pressure at home 2 times a day everyday per doctors orders, I was also checking the beats per minute (as it shows in the blood pressure monitor), so I noticed that I was getting tachycardia. As the blood pressure was fine so far, and I was also with tachycardia, the OB wanted to wait more for the steroids shots.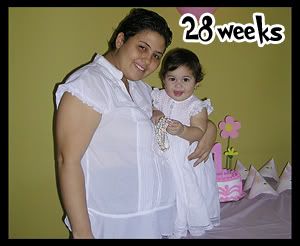 May 2006
At 32 weeks, my OB wanted to see me every week. He also asked me not to travel anymore to my house, so I *moved* to my mom's house. Gaby and hubby were going every weekend to see us.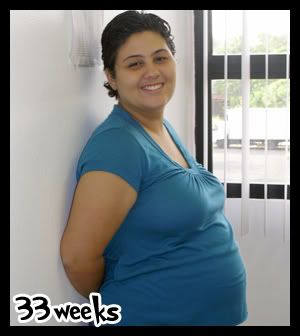 Sunday, May 20, 2007
Since around 1:00am, I was feeling this awful pain in my lower back... I really couldn't sleep in the whole night. I was also feeling a lot of pressure in my pelvis, but I also was feeling like that in my Friday appt with my OB, and everything was fine. So, I tried to ignore the pain. Also, my mom's maid wasnt home, so going to the ER in the middle of the night for a false alarm wasnt an option... I mean, I had nobody else but my mom to drive me to the ER, and that would mean to wake up poor Camila. I needed to avoid that as long as it was possible.

I kept complaining about the pain in the morning and I called my OB. He told me to go to the ER to check if I was dilating. By noon I was in the ER alone, because babies were not allowed inside, so my mom stayed outside with Camila. The OB (thank God there are OBs 24/7 in that hospital) said: "Four contractions in 10 minutes...you are getting admitted!!". We asked Camila's godfather to stay with her for a couple of hours, and he and his wife offer to take care of her until the next day at 6am (as they had to go to work).
They gave me meds for the contractions right away. A few hours later they were really far apart, but one of the side effects of that med is tachycardia, and as I already had some, I was feeling that my heart was going to get out of my body!!!
Monday, May 21, 2007
My mom left at 6am to pick up Camila, and I stayed alone. I was starving but breakfast wasnt until 8am. The last thing I had to eat was at 8pm, so I was about to pass out. For some reason, my breakfast NEVER got there, and it didnt matter how many times I called for it, my breakfast never made it. By 10am I wasn't able to open my eyes... everything was black, and I couldnt even move my arms... It was an horrible feeling... Everybody though my blood pressure went down, but it was fine. They called the lab and one lady came and did a fast glucose test and it came out 210 (when the normal levels were from 70 to 100)... That was REALLY high, especially since I had nothing in my stomach to affect the result!!! They called my OB and he asked for blood glucose test and for breakfast!!
When he went to see me I told him that Amelia wasn't moving, and that the only time she moved that morning was during a contraction. He asked for a biophysical profile (BPP), also called level 3 ultrasound, but the person that does them wasnt there until the morning. He asked me to write every time that she moved and for how long. She moved for 1 or 2 second a few times ONLY during contractions. To me that meant that she suffering during each contractions and she was reacting. That night, the glucose test came out 103, so it was closer to the normal value.

Tuesday, May 22nd
At 8am, they took me for the BPP. That ultraound is more detailed than the regular ultrasound, and everythings gets a score (like an apgar test when the baby is born)... The good score is 8, a regular score is 6, and a bad score is 4 or less. The test last 30 minutes, because the babies in utero don't sleep for longer periods than that. The first thing that the tech told me was that the amniotic fluid was in 7. The normal value is between 8 and around 16, but for a 34 weeks baby it should be at least 13, so it was low. Then, she told me that there's some calcification in the placenta, and that it looked it mature for the gestational age. She also told me that the umbilical cord was around her neck. When we already had 28 minutes, she told me that she needed 3 full movements of the baby so she can give the 2 points for movement, and that so far there was not movement at all. At minute 31 (a minute extra), Amelia moved, and I though she was going to give her the score (or at least half of it).
My OB came at 2pm and told me that Amelia got ZERO in movement, and that means that the baby is asking us to take her out of there. He asked me if I ate something, and I told him that I ate broccoli and chicken an hour before. He told that because of that, he was going to come back at around 6:30pm to do the c-section. I was really scared, but I had faith that everything was going to be just fine. I called hubby (who was 3 hours away), and he told me he was going to run to be able to cut the umbilical cord.

At around 3:45pm, my friend Luz (who spent most of the time with me in the hospital, noticed that Amelia's heartbeat started to drop, but she didnt tell me anything. The nurses called my OB and he said that he was going to go to do the c-section right away. A few minutes later, my OB get into the room and tell me that he got a surgery room, and that he was going to do the c-section already (but nobody told me about the heartbeat!!). Neither my mom or hubby made it. When we were about to start, my OB ask me about calling my mom to let her know that we were going to start, and we did the phone call from his cell phone (he's so sweet)... I also called hubby, and even though he was sad he was not going to make it, he was supportive and wish me good luck.
Everything went fine. At 5:23pm Amelia Isabele was born. She cried right away. Then, my OB asked me 3 more times if I was sure about the tubal, and he went ahead and did it. They show her to me after her one minute apgar and took her to the NICU... Minutes later the NICU doctor came in and told me that she had some respiratory distress (as expected), and that she was 4 pounds, 6 ounces.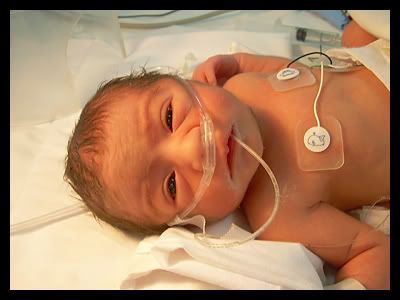 Wednesday, May 23 – Monday, May 28, 2007
Amelia had pneumonia and anemia, and needed blood transfusions. She had help to breathe until Friday night, and then she was transfer to a isolatte with free oxygen. She ate for the first time on Saturday, and that's when I held her for the first time. She was released on Monday. She was still with a little bit of low temperature, but she was fine!!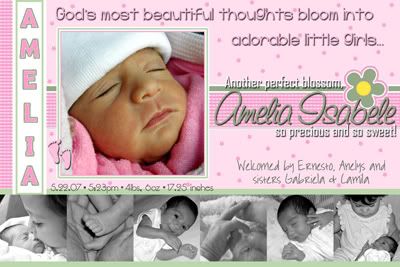 May 22, 2008
A whole year has passed since Mimi's birth. I still cant believe it. She went throught so much and she is the sweetest and happiest baby of all. I know that she is not a baby anymore, she is suppose to be "my youngest toddler", but she still is and will always be my baby.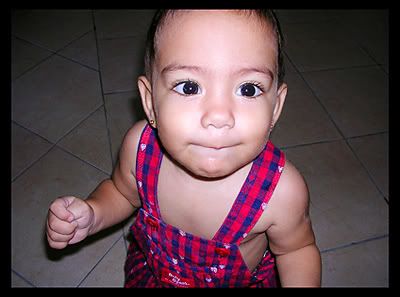 Happy Birthday my sweet little flower!