Couldnt help but to post a picture of Gaby being a big sister... Here she is proudly holding Camila for the first time (2 years old), and holding Amelia (3 years old) while I was taking the stroller out of the car to put Amelia in.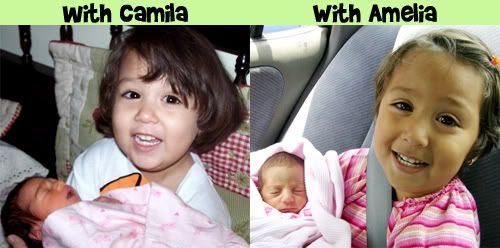 I hope to never forget the look on Gaby's face when she saw Camila for the first time.. Every time I think about it, it brings me to tears. And then, when she held her for the fist time (pictured) she was even shaking of happiness. She was always so sweet and tender with her, and I was never scared of turning my face to brush my teeth, because she was always very careful.

Then, when Mimi was born, she was older and even more careful. She was protective and always trying to keep her safe from Camila.

Im sure BOTH sisters will look up after their big sister, and I already have been told in school that she defends them if somebody else is trying to mess with one of them. They may fight, but Im positive that more sisters, they will grow up to be best friends.