Until a few days ago Mia was having hair in her eyes, so I decided to cut her bangs... I have never done it before, and I did a very good job... BUT, she needed a hair stylist touch.

Also, Gaby has been asking for a few months now to get a haircut like Mia, and I always said no, specially since I know how much she will love to have the hair longer (as she asks for braids a lot, but I struggle to get them done with her hair so short). Anyway, since we started talking about eye patches and eyeglasses, I started thinking that it may be a good idea to cut her hair in a way that doesnt go to her face.... There is a lot of times when she is doing her homework that I see her hair in the middle and she struggles, and even though I know there are a lot of other ways to solve this situation (like forcing her to have her clippies or bows on all the time), I talked to hubby to see if he agree with it. At first he said no, but then I explained him what I was thinking about the eyeglasses and he also thought it was a good idea...

So, to the hair salon we went! Here is Gaby before the haircut:

Here is the best shot I could get of Mia (she was reading a Barney book that was way more interesting than looking at mommy for a picture):

And here they are AFTER the haircut at my mom's house: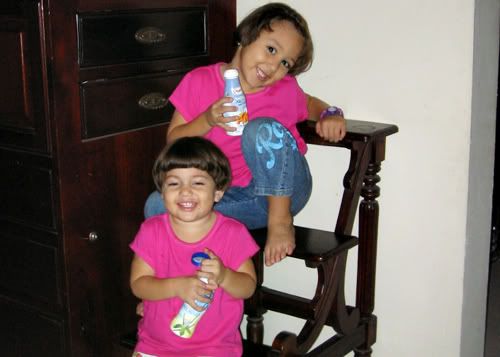 We are still very unsure about Gaby's hair. She really looked better with her longer hair, but we both know we dit it for the best. She looks way younger now, and just like other child, and now looks more like Mia too..