Today was a VERY busy day... Gaby's party is at school, but that doesnt mean that lots of preparation is involved. Also, Sassy was due with her shots, so it was a busy day WITH a dog included in the car!!!
We went to
Business Mail
to pick up
Cara
and
Erica
's gifts that they sent my mail, plus some goodies for the party, including some ponies that Gaby will give to her friends at school. We also spent lots of gas going from one store to the other trying to find horses or ponies for the boys that were not from My Little Pony, as those were too girlie. I never imagine that picking up regular horses was going to be so difficult... All the stores had packages with several animals and one horse, and I was not planning to spent a lot of money buying several packages just to get ONE horse from each... Finally we found them, even though I still had to buy two mixed packages, and the girls will have a nice addition to their farm!
Then we went to the vet for Sassy's shots... Both vets were amazed how she didnt even make a sound when they put her both shots... They told me that most dogs cry, especially with the second one... They gave her a treat for that! She also gained 4 pounds in 3 weeks!!! So, she went from 4.5 to 8.5 pounds... She is going to be one BIG dog!!!!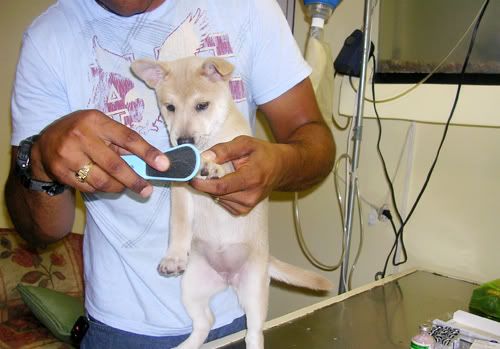 Cant wait for tomorrow, and for the party on Monday... and Gaby has been GREEN most of the day (Good job Gaby).