Another item on the "Blooming Buds" to-do list is to have more family projects. Each week we will have a planned activity that cant be homework or an improvised activity. It will be an activity that will be planned ahead, and there will be materials and supplies to gather during a few days for these activities. Daddy will be in charge of gathering the materials and setting up the project, and it will be a project for all of us to do together.
Mimi may not always participate, as we cant penalize Gaby and Mia because of Mimi's naps, but we will try to incorporate her as much as we can. Then, in a few months, she can be incorporated in a dialy basis.
Hubby downloaded an awesome booklet for home activities, and we will be taking ideas from there (well, he will as he is the one in charge).
Even though regular homeworks wont count as family projects, big projects for school can count. The girls didnt had classes Thursday and Friday because of a Faculty Meeting, but they sent home a big project for the girls to do in family...
Gaby needed to make a Fish Tankfrom the story: Six Swimming Fishes. There was a booklet with the story, and she needed to complete the empty spaces with the correct word. Each fish was doing something and she needed to write the color that rhymed with the sentence. Then, she needed to cut (from another sheet) all the fishes, color them with the right color according to the story, and then put them in a homemade Fish Tank... So, the fun project was the make the Fisk Tank and here it is (the picture doesnt have a good angle but you get the point):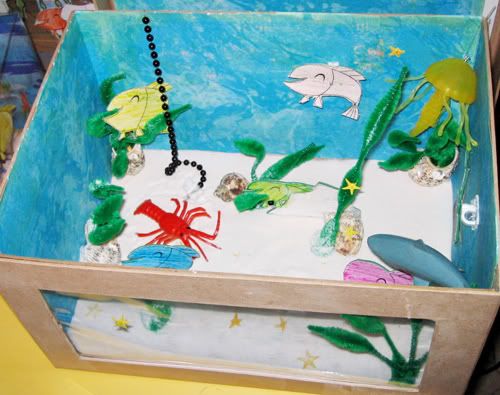 Mia's project was to make a "mobile" from a story that had animals from several colors... The school's camera died when hubby was ready to take the picture, so I will update the post later on with pictures of it.