.... and with PICTURES!!!!!!!!!!! Yes, Im finally posting a post with pictures as I took the school's camera (shhhh!) and took some pictures... I also gave the camera to Gaby's teacher and she took some pictures too....
As I mentioned (I think I did), today was Kinder's Pirate Day!! The main reason was to help Gaby's eyepatch adaptation for her AND her classmates... The preschool's principal wants the other kids to see it as something normal and even something fun. Also, they did it at this precise moment taking advance that they are working with letter "Pp".


As I got a
pirate costume
for her to wear for the costume parade at the end of the month (which is still on the mail), I was not going to spend money buying another pirate costume, so I decided to make my own.
She wore a black shirt and leggins, and her black sneakers from school. She also wore her purple bandana from her Pony Birthday. I got for 99 cents a pack of 8 pirate eyepatches (not that I needed 8, but that was cheaper than the one that was by itself).


She got dressed as a Sassy Pirate, so I made a tutu for her, and a white vest with a purple cord... I mastered a no-sew costume in minutes (Ok, I confess, it took me like an hour). I also put some tulle on a scrunchie for her hair, and got her a $50 cents purple and black necklaces.
Here she is before she left the house (You guys cant harldy notice but she has a necklace around her foot too: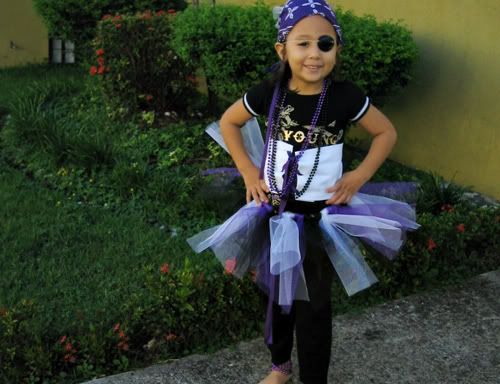 Here she is when she got to school (after I fixed her bandana a bit:
One of her classmater's mom went for their cooking club today, and she teach them how to make a dish from her home country.
Gaby got to help with the preparation.....
And here is a close up of her medical eyepatch (not the pirate one.. LOL)... She normally wears it with stickers, but today she was not bothered by it as all the other kids were wearing eyepatches... Of course, by this time of the day, she was the only one wearing it as the others got sick of it.....
She had a BLAST!!!!!!