As I keep researching about going cloth, a few girls on a forum told me the recipe they use to make their own Wipe Solution.... Some use Tea Tree Oil too, but I cant find where my bottle is (I got a bottle that I used to kill Gaby's lices last January). So, I went ahead with the simpler recipe and I already used it two times (no poopy yet, but I will get there).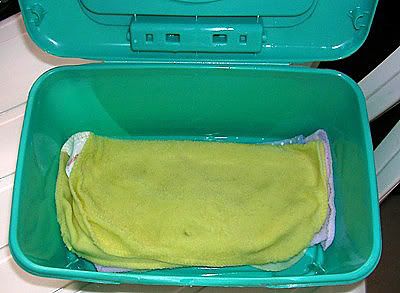 If somebody wants to try, here is the recipe:
- 1 cup of warm water (I will be using boiled water)
- 1 spoon of Baby Wash
- 1 spoon of Baby Oil
Mix it all and dunk the washcloths in the solution, take them out and put them in a wipe warmer. I did this for 15 washcloths, but this will depend on how many you are using. Some people use
BumGenius wipes
or
Flannel wipes
, but as I have so many washcloths, I will be using those for now. Some people also buy
Diaper solution concentrate
but I prefer to do my own and it's going to be cheaper.
Im also not sure about the Wipe Warmer because I think the wipes will dry out when I loose electricity (gotta love black outs in this country), so I was thinking about buying a Spray Bottle and put the solution in there. Then, I will just spray girls on the bottom or just spray the washcloth before cleaning.... This is what most people recommmed to do while out of the house, so maybe I'll do that all the time.
Im also thinking about keep buying disposable wipes to clean poopy when we are out and about.
Edited to add: I already changed a few poopy diapers and I cant complain either!! :)