As I mentioned before, I have been
green-iying our lives
and one of the things that we havent been doing have been using cloth napkins.... I have never been a fan of disposable napkins, but we do buy them sometimes.
We are not close to be set with cloth napkins, but we ordered our first set!!! We are so excited specially since they are sooooooooooooooo stinkin cute!!!!! I order them from Etsy from a shop called
Little Bit Designs by Girlie Momma
. She is a very nice lady and the communication was GREAT! I will be contacting her very soon, cause Im planning to buy a set for my mom's house as a gift for her so her grandkids (my girls and my nephew) can use when they are over there... Cant wait!!
Here are two shots of the napkins... They have cute little animals in one side, and plain red on the other...
Here is a close up of the fabric: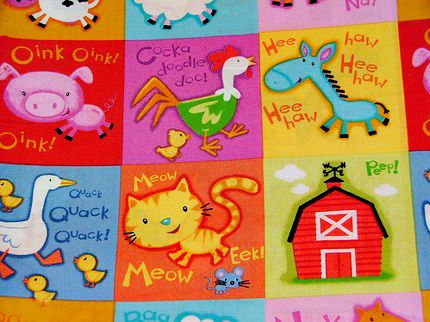 The owner will be my customer too now as she will be ordering something from my shop... Gotta love how "mom shops" support each other!