The girls had lots of fun opening presents yesterday. They played with them all day long... They actually took a shower at night time for them to wear something differently to go to sleep!! Mimi was the last one going to bed, and she was actually up until almost 12am (when she is always the first one going to sleep)....


They are just too happy with what they got. Well, with almost everything as Gaby doesnt seem to like her doll. It makes me very sad, because I have been dreaming about that doll since several months ago. She seemed very happy with it at first, but then all she wants is to play with Mimi's doll. The doll is a
Gotz Muffin 16.5 inches
and I was planning to buy a shirt and pants similar to the ones that Gaby uses for school plus some eyeglasses for her. The doll has long hair that can actually be shampooed so I was dreaming about lots of fun... I know I can make her fall in love with her, BUT I rather to save it for next year. It is very expensive and as she doesnt love her that much she will ended up on the floor and so on.

Anyway, moving on to the next things, Mimi got a Corolle Doll with a bit of dark skin like Mimi (12 inches with soft body). She is in love with her (and so is Gaby and Mia).

Mia got another
Corolle doll but one that can go in the water
.. It also has soft body but it says that is dryes easily. We are not planning to tell her that it can go in the water, but most of Camila's dolls ended up in the tub... LOL... Each one of the girls got a custom made diaper bag, bib, burp cloth and cloth diaper from an Etsy shop called
Mimas
(You need to check her out cause her quality is great AND the prices are awesome!). Anyway, here is one of the sets being right next to Camila's doll. There is also a mini picture of the other two patterns on the top left: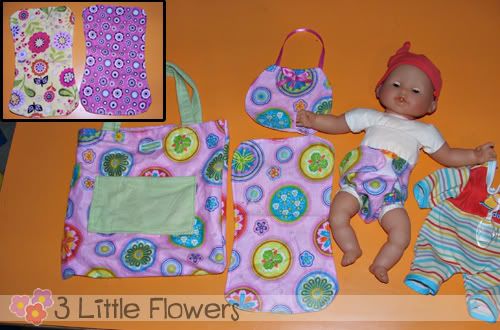 The girls got a new chair for the chairless table that we got several months ago (they are ridiculous expensive, so we were waiting for the right moment to buy them)... Each one has their name and picture (made by me and then laminated) and sticked on with double sided tape to see if it lasts... (the Little People are old, but it is the Nativity Set (with a few extra animals and they were thrilled to find them on their table). This is my mom's gift to them.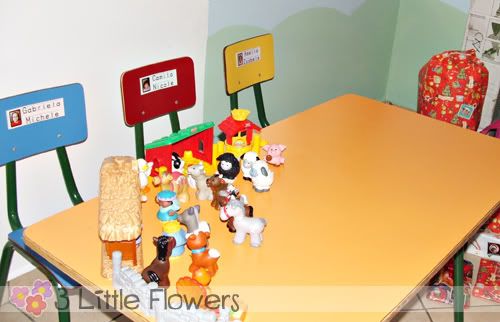 Mia and Gaby opening presents against the part of the wall that will have the brick wall at some point: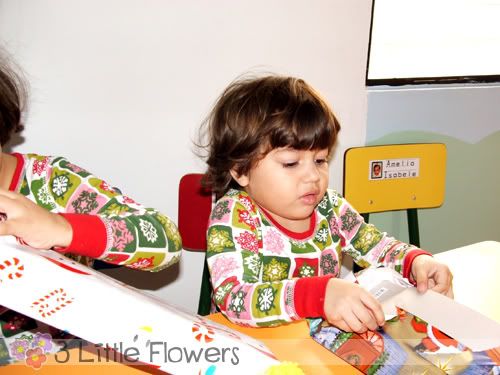 Each one of the girls got a new doll bottle to put on their new diaper bags:
Mimi wanted to give it a try: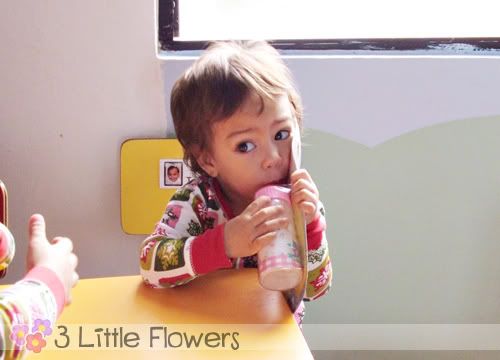 Gaby got
Interactive Flash Cards
from Auntie Cara... She loves them!!!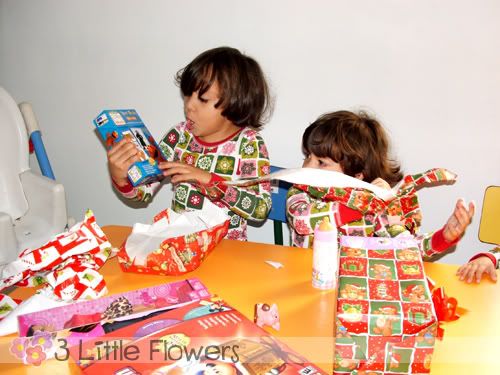 Here is Gaby's reaction when she saw one of the Hi5 DVD's that Auntie Cara sent... There were three DVD's so there is one for each girl.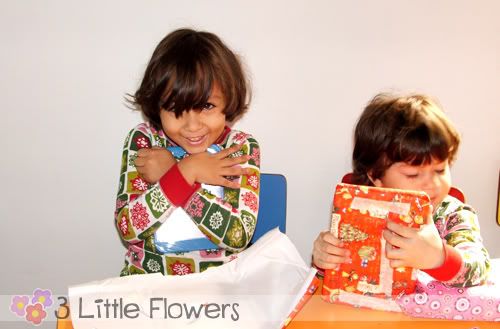 Camila got a iron board with an iron that soon become a changing table: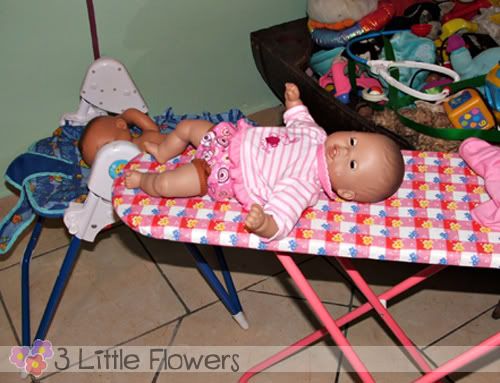 Hubby picked up a computer game for Gaby and as long as I have been writting this post, Gaby has been playing with it non-stop:
Auntie Luz got the girls also got a
Super Spiral Bouncer
and a
new stroller
for Mimi.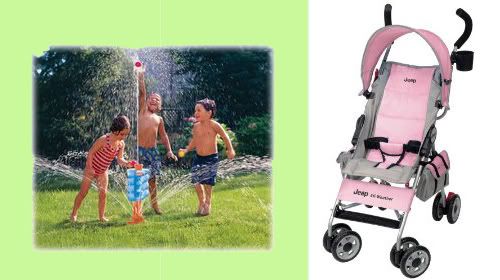 Their real present was a
LifeStyle Party Time Kitchen
... They are in love with it (hubby and I too!):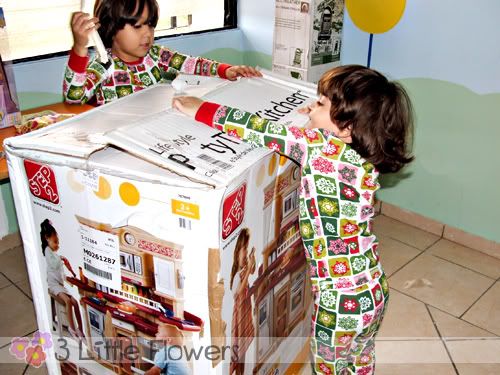 Of course, the box was as fun as the kitchen: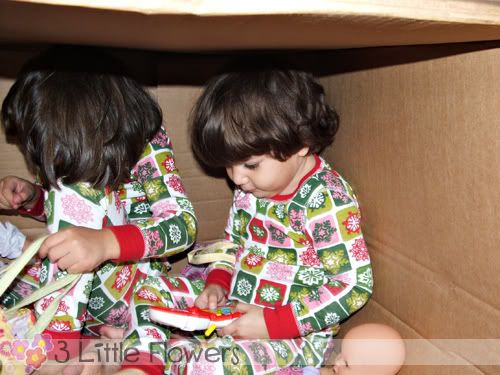 After Gaby and Mia were sleeping, Mimi was cooking and feeding her doll (notice that she put her doll on the high chair... Also notice how big is the kitchen compared to Mimi):