This show was from the same people from
Elmo from last week
, and
Dora from a few weeks ago
. Sadly, tomorrow is their last show of the season, so we wont be able to see them as frequently. This one was in a crowded place, and we wouldnt have gone, except that Mickey was going to be there, and the girls were dying to see him. Mickey is one of Camila's favorite characters, so we needed to go. I left my purse at home, and hubby took one card plus a little bit of money on his pockets.. We couldnt risk to be mugged or something for that matter.. and off we went.
We didnt spend much time there mostly because the games and activities they were doing were more for bigger kids, which was their main public at the moment... But the most important thing is that they got to see them and that they had a great time while it lasted... Mimi had the chance to sit a bit with Mickey and she was sooo happy... We even got a group photo of the girls with Dora and Mickey, even though Mimi was crying (not sure why)...
Here are Mickey, Dora and the animators singing and dancing a song from Lazy Town.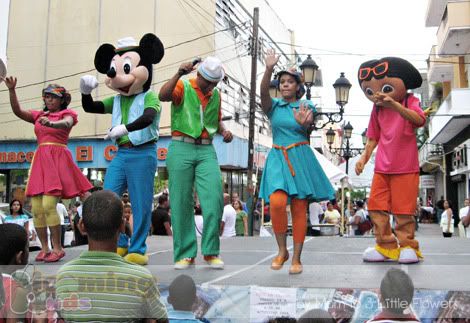 Here is Mimi in her alone time with Mickey...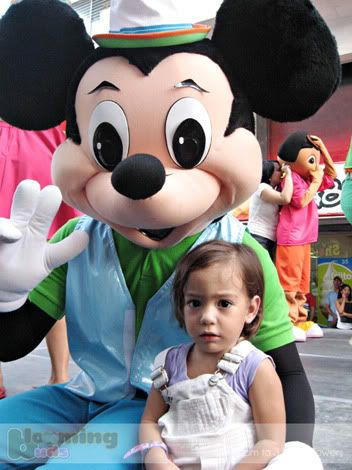 Here are the girls with Dora and Mickey...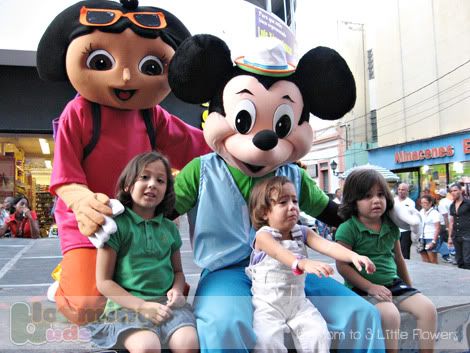 After the show we went to get some Ice Cream that I promised to Mia for helping me fix the playroom. Also, that was the excuse to leave the show.. They got into a Tom thingy (Tom as the cat from Tom and Jerry):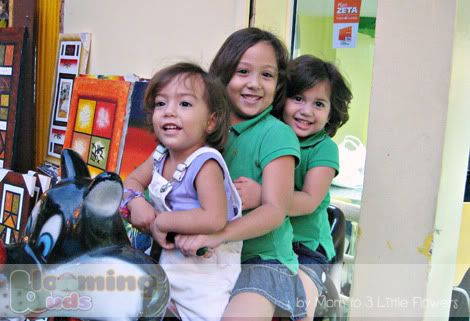 And here is what is going through their mind while eating icre cream: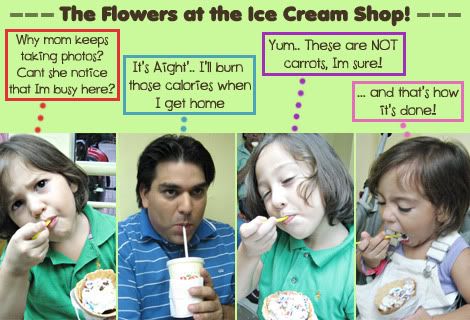 It was a fun day.. We mange to leave with no crying and all 3 very happy! After the Ice Cream, they were asking to come back to see Mickey and Dora, and I told them that the show was over.. They say that it was Ok... I guess my girls ARE growing!!